During winter, you need the humidity level to be within 60 to 75%, and in the summertime, you want it to be between 55 to 70%. Bypass and powered humidifiers will make a big difference in the air quality of your home. Unlike portable humidifiers, they are installed as whole-house humidification systems and filter humidified air into every room in the house.
These systems transform a dry house into a house where the air is easier to breathe and the rooms are more comfortable. A bypass or a powered humidifier can help allergy sufferers and asthmatics as well as homeowners in areas with long winters and dry indoor air quality.
But which one is the best for home humidification? The bypass humidifier or powered humidifier? In this bypass vs powered humidifier comparison, we'll see what they are, how both work, which is suitable for who, and which is the best.
What is a bypass humidifier?
A bypass humidifier is a fixed humidification system Trusted Source Humidifier - Wikipedia A humidifier is a device, primarily an electrical appliance, that increases humidity (moisture) in a single room or an entire building. In the home, point-of-use humidifiers are commonly used to humidify a single room, while whole-house or furnace humidifiers, which connect to a home's HVAC system, provide humidity to the entire house. en.wikipedia.org that works with the vent from your home's HVAC ductwork. Bypass systems are the most affordable humidifiers for the entire household. Yet they can be used for the entire home.
They can adapt to different types of water, such as hard or soft water, and are low-maintenance. An annual filter change and checking the drain pipe for possible mineral deposits are the only main tasks.
A good example is the large-capacity Aprilaire 500MZ 500M Whole-Home Humidifier. This manual compact humidifier is ideal for homes with up to 3,000 square feet.
How does it work?
A bypass humidifier works by a passive system where you have a vent that comes off your HVAC ductwork. It goes through the humidifier vent which you have to install or which you may already have installed.
It goes through a plate of basically water filters and water trickles down. Then the warm dry air goes across that filter, picks up the water, and then the air is humidified.
For the bypass humidifier, it doesn't require any power. It does not need an outlet. It just has low-voltage power from the humidistat or thermostat.
When do you need one?
This is more cost-effective for those who have ductwork built into their home. If you have dry, itchy skin, a scratchy throat, nosebleeds, and flyaway hair, then you need one installed.
What is a powered humidifier?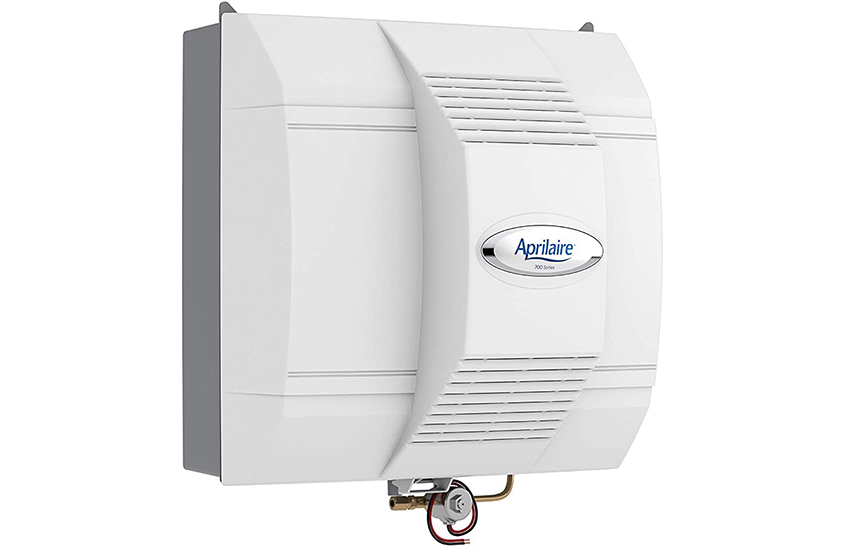 Powered humidifiers are space-saving, whole-home humidifiers that do not need a bypass duct. They have fins, produce more moisture, use water more efficiently, and produce more consistent humidity.
One of the most positively rated powered humidifiers by users is the Whole-Home Humidifier with Automatic Fan from Aprilaire. It's a large capacity model that is ideal for 4,200 square feet of space.
How does it work?
The other way that you have a humidifier is a fan-powered humidifier and it doesn't require any kind of additional vent or ductwork. It mounts right inside the HVAC system. That HVAC system then has a fin on it – a humidifier and a fan combo.
You cut a hole on the side of your unit and that fan forces air across that humidifier filter. It forces the moist air up through your system and humidifies your home.
When do you need one?
A powered humidifier is the best for those who don't have an existing duct. It's for those with a higher budget who need more humidity that runs consistently. It's for those who have allergies to dry air.
Bypass vs powered humidifiers: Side-by-side comparison
A bypass or a powered humidifier: how do they differentiate from the other? Find out the differences in the comparison table below:
Bypass humidifier
Powered humidifier
Efficiency
A bypass is efficient, but not as a powered Humidifier
A powered humidifier is the most efficient for regular, consistent, and more efficient
Versatility
A bypass can be turned into a powered humidifier
A powered humidifier is flexible.
Durability
Bypass humidifiers are more durable and long-lasting
Powered humidifiers can be used for years but they're not as durable as a bypass.
Price
A bypass system is inexpensive
Fan powered humidifiers are more expensive than a bypass
Pros

Doesn't require high voltage power
Inexpensive
Runs quieter
Flushes away residual mineral

Produces more humidity
More flexibly installed
Can also flush away residual mineral
Produces more consistent humidity
Doesn't always need a running furnace

 

Cons

Requires a running furnace
Requires a ductwork

Expensive
Costs more to install
Noisy
Final thoughts
Two main types of humidifiers are used for built-in systems or humidifying your home. There are the bypass humidifier and fan-powered humidifiers. Bypass and power humidification systems improve indoor air quality and are ideal as a whole-house humidification system.
In our bypass vs powered humidifier comparison article, you've been able to see that the fan-powered humidifier does require an outlet to plug in.  But both of these are wired to a humidistat or a smart thermostat.
With a bypass, you need ductwork that goes through the filter on the humidifier and then goes into the warm air stream of the HVAC system.