Dyson is a brand that needs no introduction, and the Dyson HPO1 is one of their unmatched gems. The small but mighty air purifier sets itself apart from the competition with its triple-function capability. Despite its small size, the unit heats and cools a room like a beast. Compared to other Dyson models, it has a lower price point. This Dyson HPO1 review looks at the famous air purifier's features and capabilities. Read on to see if it lives up to the brand's name and technology. Dyson is among the top five best brands known for premium, high-quality appliances.
Specifications
Coverage area
standard room
Filter types
360° Glass HEPA
Dimensions
24.9″ x 6″ x 8.7″
Review
The Dyson HP01 is the flagship model of the Dyson Pure Hot and cool series. Although many models with improved features and performance proceeded it, the Dyson HP01 is still one of the best multi-functional air purifiers in the market. Here is a detailed review of its performance and top features.
Overall performance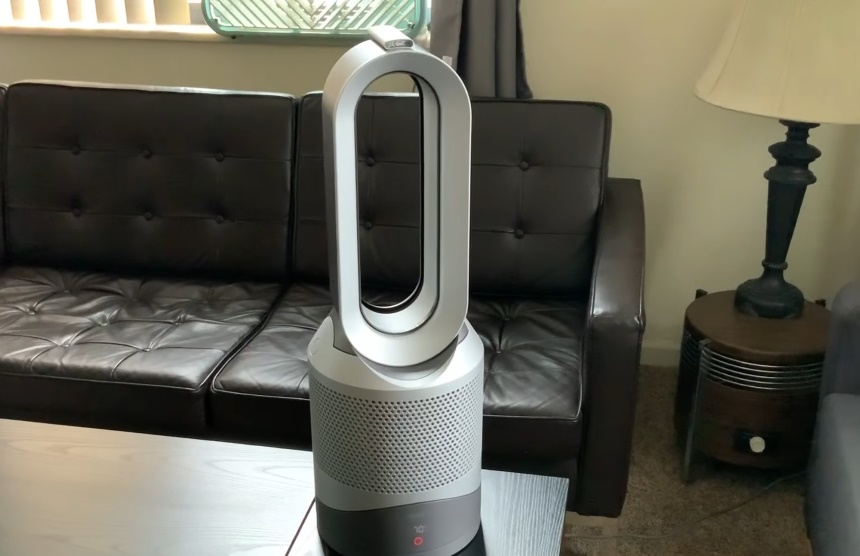 The Dyson HP01 is packed with premium features that make it such a top performer. The compact air purifier not only cleans the air in your space but also cools and heats, thus being useful all year round. It will remove bacteria, allergens, and all pollutants from the air in an area as large as 400 square feet. This makes it a perfect option for people prone to allergies and respiratory conditions like asthma.
Moreover, the unit will heat your space with thermostatic control in colder weather and cool you down in warm weather. All considered the Dyson HP01 offers excellent value for money despite being a hefty investment. After all, it is a more affordable way of running your underfloor heating.
Filtration technology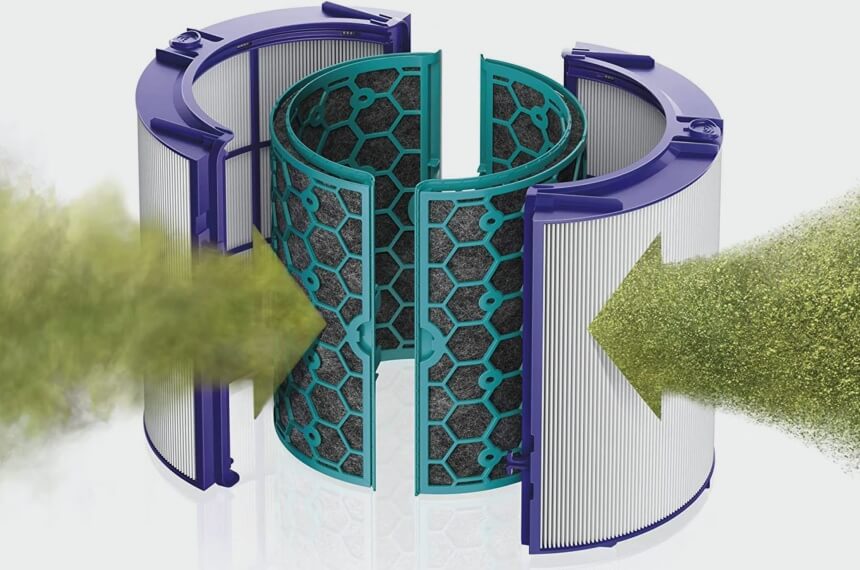 Besides having three functions; cooling, heating and purifying, the Dyson HP01 is popular for its unique filtration technology. It uses Dyson's patented air multiplier filtration technology, which effectively circulates air across the room by amplifying surrounding air.
The air multiplier technology eliminates the need for fast-spinning blades and heating elements that can cause accidents. Therefore, it is a safer option for households with children and pets. Moreover, the technology uses a brushless electric motor to rotate the blades at the pedestal for precise airspeed control.
Remote control and app connection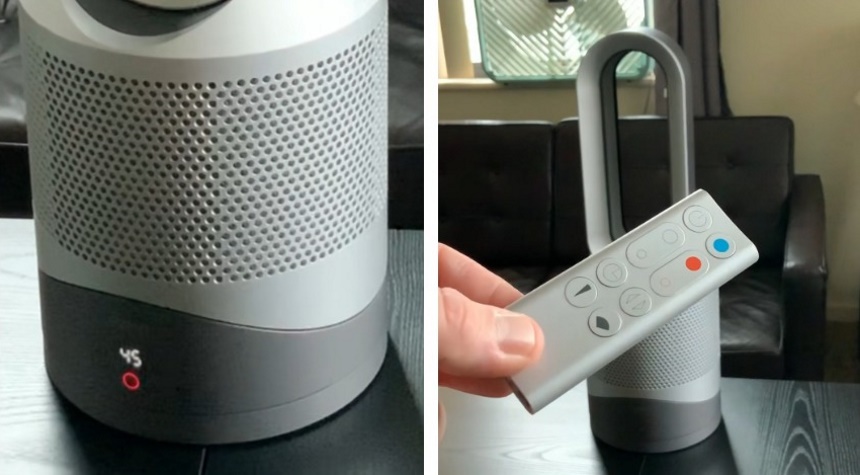 The Dyson HP01 has no Wi-Fi connectivity. Therefore you can only control it with the remote control it comes with and the button on the front of its pedestal. The button switches the unit on and off, sets the mode options, controls oscillation, and changes the modes.
The remote control has the same commands as the button on the machine's base, and you can easily adjust the device's settings. What's more, the remote control is magnetized so you can attach and store it securely on the machine.
Filter type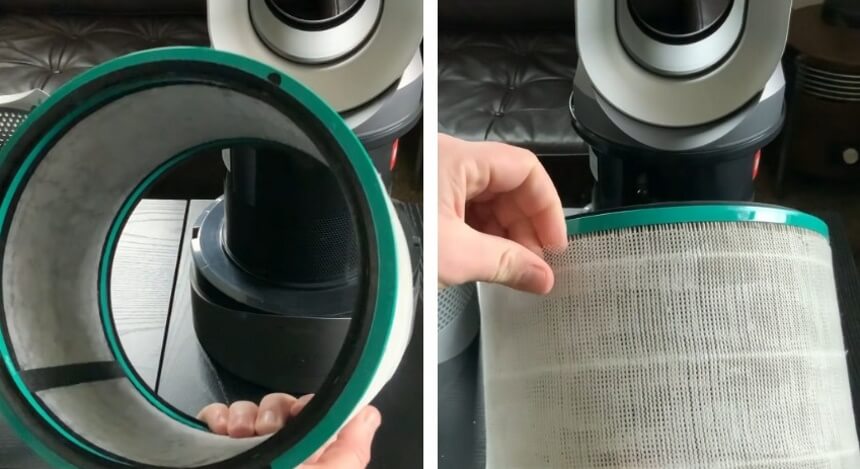 The Dyson HP01 features a 360 degrees replaceable HEPA glass filter. The filter can remove up to 99.99% of contaminants from the air in your space. Even particles as tiny as 0.3 microns do not stand a chance with the HEPA glass filter.
According to  Dyson Trusted Source 360° Glass HEPA Filter Replacement filters engineered for your machine… www.dyson.com , the second-generation glass filter is special because it contains three times more graphite material than the first-generation glass filter and 20 feet of borosilicate microfiber. As if that's enough, the filter is pleated exactly 333 times.
The Tris-coated graphite material eliminates fumes, odor, and gases. It can purify the air in a space as large as 400 square feet.
Furthermore, the filter features internal sensors that detect gases, pollutants, and odors, ensuring no impurities are left in the air.
Speed
The Dyson HP01 delivers smooth, clean air at an impressive speed of 77 gallons per second. It pivots on its own gravity and has up to 350 degrees of oscillation. Moreover, it features 10 air speed settings that you can choose for a personalized cooling, heating and purifying experience.
Dimensions and weight
The Dyson HP01 is compact and lightweight enough to sit on your office desk, bedside stand, or kitchen counter. You can easily carry it from one room to another. It is relatively small than many other Dyson air purifiers in the same line, yet it can purify the air in a large area.
Noise level
The Dyson HP01 is popular for its smooth and quiet operation. Dyson does not reveal the noise levels of its devices. However, when measured, the Dyson HP01 produces a maximum of 55dB on the highest setting and as low as 40 dB on the lowest setting. 55dB is as loud as the noise produced by a running fridge or hair dryer. 40dB is like quiet library sounds. You would have no trouble sleeping with the air purifier running on the lowest settings
Fan mode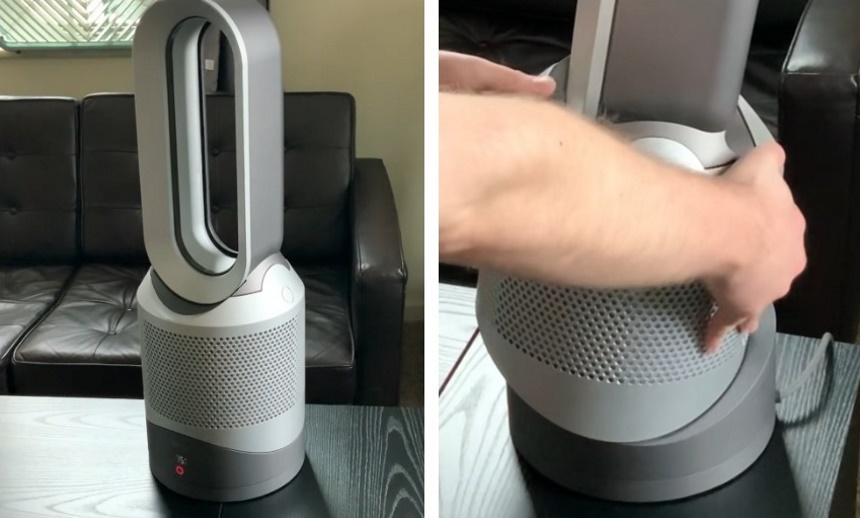 The HPO1 has three modes: jet focus control, diffused, and night mode. The Jet focus control mode will give you a direct and focused air stream. It is perfect for long-range personal heating when sitting at your office desk or on your bed side. You can even tilt the device forward or back in a suitable angle if you want it focused on your face or torso. The diffused mode offers a wider airflow, which is perfect for heating up or cooling the whole room. If you are in a shared space, you can oscillate up to 70 degrees to keep the other person or people in the room warm as well.
The night mode dims the display and puts the device in its quietest setting. The night mode is perfect if you love to sleep with the device on to purify, cool or heat your space.
Coverage area
If you live in a large space, the Dyson HPO1 is the ultimate air purifier to get. With a maximum airflow of 425 CFM, it can effectively purify, cool and warm rooms as large as 400 sq feet. It works well in medium sized bedrooms and living rooms. It is also perfect for workspaces, especially offices as it is meant to be stationed on a desk.
LED screen
The Dyson HP01 features an LED screen that displays the temperature settings that range from 0 to 37 degrees.
Sensors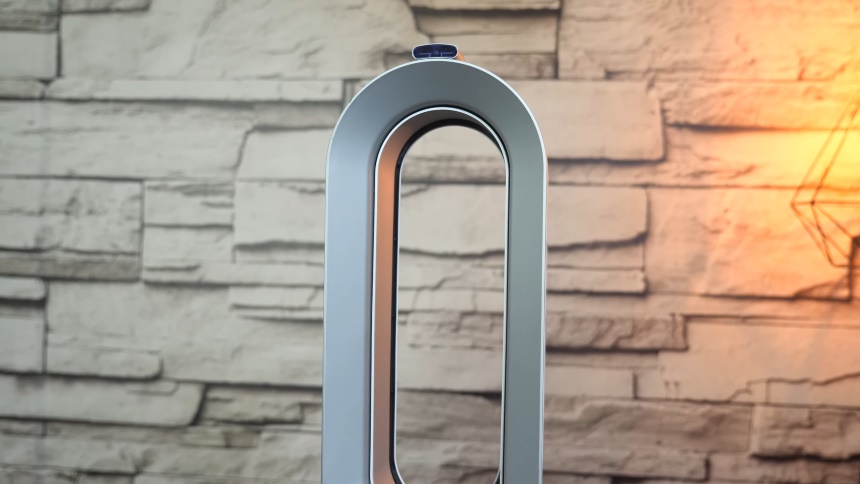 An air purifiers is designed to sense pollutants in the air and remove them effectively. An air purifier without sensor is pretty much useless and money down the drain. Like other Dyson air purifiers, the Dyson HP01 combines intelligent sensing with an advanced filtration system. The built-in sensors sense dust, pollen, dander, smoke, odor and other airborne impurities as small as 0.3 microns.
Certification
The Dyson HP01, like all other Dyson air purifiers, is Certified Asthma and allergy-friendly by the Asthma and Allergy Foundation of America. It also has the Parent Tested Parent Approved (PTPA) seal of approval, and is thus safe for households with kids and pets.
Warranty
Dyson offers a 2-year warranty backing for the Dyson HP01. The warranty covers parts replacements and labor. The company also offers a free 30-day return policy, in case you are not satisfied with the purchase.
Price tag
With a price tag of $299, the Dyson HP01 is a hefty investment. Although it is on the pricey end, it is less costly than other models in the HP line. Its price may be high, but it offers excellent value for money with its premium features and top tier multi-functional performance. At a similar price, you wouldn't get a high-quality cooler, heater or air purifier separately.
Dyson HP01 vs. HP02 vs. HP04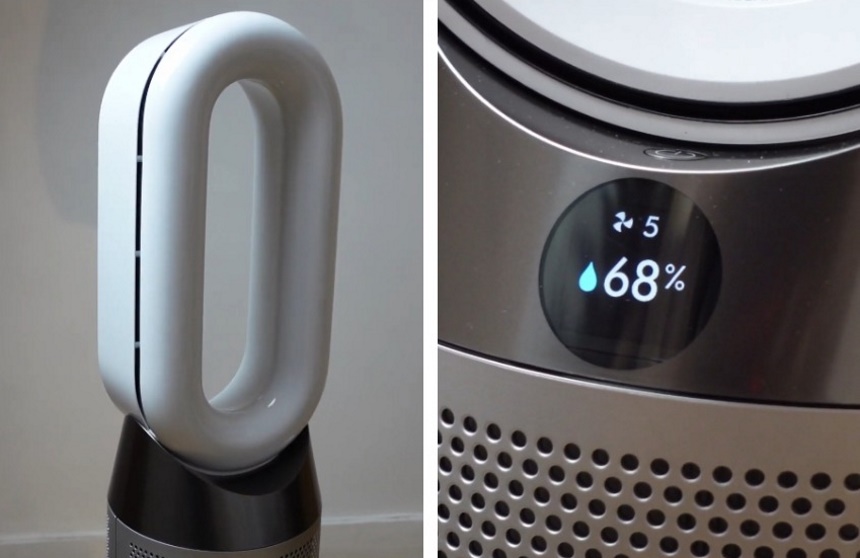 Dyson HPO2 and HPO4 are the upgraded models of the flagship model HPO1. The machines have a few similarities, especially in design and appearance and plenty of differences in their features and performance.
The Dyson HPO4 is the more advanced and overall best model. The HPO2 and HPO1 are virtually similar when it comes to features and performance.The only difference between them is that HPO2 has a more compact build and an unjustified $100 price tag. Therefore, the HPO1 is better than the HPO2 because it is about 205 cheaper.
Here is how the three air purifiers compare:
Area coverage: The HPO4 has a maximum airflow of 82 gallons per second (625 CFM) which is about 50% higher than that of HPO1 and HPO2. This means that it is better suited for large rooms while the HPO1 and HPO2 are ideal for standard-sized rooms.
Filters: The HPO4 has better filters than the HPO1 and HPO2. It has advanced 360 degree HEPA glass Media filter and activated carbon filter for absorbing smells. The term 'Media' distinguishes the HPO4 filter from its predecessors' filters.
Noise level: As mentioned earlier, Dyson does not provide information about its devices' noise levels. However, the HPO4 has the 'Quiet Mark Accreditation' which its predecessor models do not have. This may mean that it is a quieter option.
Features: the HPO4 has more advanced features than the HPO1 and HPO2. The HPO4 has 'Senses' which both its predecessors lack, and an Oscillation of 350 degrees which is a tad higher than HPO1 and HPO2's 70 degrees. Also, only the HPO1 does not have the app connectivity.
Size and weight: HPO2 and HPO1 have the exact same dimensions and weight. At 8.6 lbs, they are smaller and lighter than the HPO4 which has a combined weight of 12.4 lbs.
Price: The HPO2 is $100 more expensive than the HPO1. The HPO4 is only $50 more expensive than the HPO2.
Pros
Cons

Multi-functional (Air purifier, cooler, heater)
Effective in medium-size and large rooms
Efficient filters
Durable construction
1-year warranty
Conclusion
Dyson is a popular fan brand and all their products are loved for their premium quality and unmatched performance. The Dyson HPO1 is a small but powerful air purifier. Although it comes with a premium price tag, it offers real value as it can cool and heat your space on top of purifying the air.
This Dyson HPO1 review depicts the famous air purifier as the most ideal for people who are prone to allergies and asthma. Its safety features also make it a suitable option for homes that have kids and pets. Overall, the compact air purifier may be old but it is packed with features that justify its hefty price point. Plus, it is less costly than all the other Dyson HP models.
References
1.
360° Glass HEPA Filter
Replacement filters engineered for your machine…