Air purifiers remove dust, pollen, and odors from the atmosphere so that you and your family could breathe clean and healthy air. There are several types of air purifiers available, varying in portability, power consumption, filtration mechanism, coverage area, price, maintenance, noise levels, and the number of additional features.
GermGuardian AC5350B leads the pack by combining effectiveness, efficiency, reasonable pricing, easy controls and quiet operation to improve your air quality. The Energy Star-certified air purifier utilizes different levels of filtration to ensure every harmful particle has been captured and allows you to control the speed of the fan to your preference or set the built-in timer to run for a specific period. Expert reviewers consider it one of the quietest models and its sleek ergonomic design and light weight can easily fit in any room and blend with most décor.
Specifications
Filters type
charcoal; true HEPA
Coverage area
up to 167 sq. ft.
Energy Star certification
yes
Dimensions
9.06 x 6.69 x 27.56 inches
GermGuardian AC5350B Review
GermGuardian AC5350B is rated as one of the most popular and effective air purifiers in the market. In this comprehensive review, we go into an in-depth analysis of the features that have earned it the accolades as well as the trade-offs you need to be aware of.
Overall performance
The overall effectiveness of GermGuardian AC5350B is reflected in its ability to remove 99.97% of harmful particles that are as small as 0.3 microns meaning it can help you get rid of dust mites, pet dander, pollen, smoke, mold, and bacteria. The impressive overall performance is also determined by its CADR rating (what is it? – read below) of 114 for dust, 127 for pollen, and 108 for smoke. These numbers are typical for devices of similar size and type, and it means that the unit can perform its job effectively in record time. It quickly achieves this by purifying the entire volume of air every 15 minutes.
How it cleans the air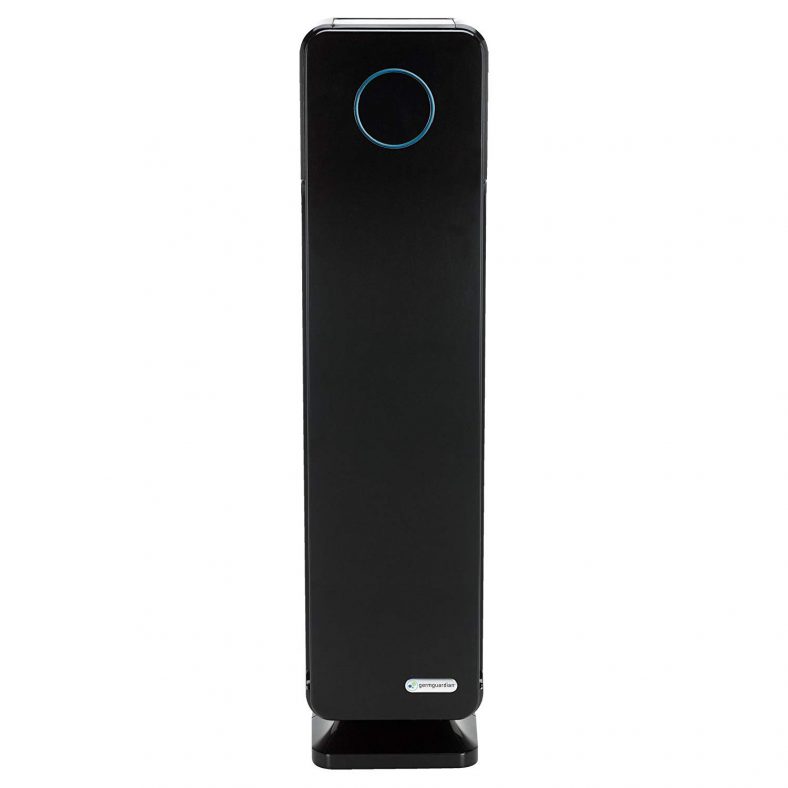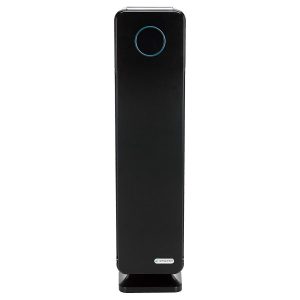 GermGuardian AC5350B uses an advanced multi-layered filtration system with four stages of purification consisting of a mechanical pre-filter, activated carbon filter, true HEPA filter and optional UV-C light technology to kill microbes and remove different types of contaminants and odor from the air.
Once air circulates through the air purifier, the pre-filter captures large particles like pet hair and pollen to protect the unit from clogging because of trapped pollutants accumulation while the activated carbon filter eliminates smoke and odor. The true HEPA filter removes the tiny particles from the air and the UV-C filter acts as a sanitizer to kill germs and viruses responsible for influenza.
Filters
Mechanical air pre-filter: It is made of a thin 1/8-inch material which can be easily cleaned with a brush or a vacuum cleaner. Its work is to remove large particles from the air which can accumulate and block the air purifier from working effectively.
Carbon filter: This layer is made of highly absorbent activated charcoal which bonds with the particles to trap them and reduce odor from pets, tobacco, cooking and chemicals.
True HEPA filter: This is considered the ultimate filter due to its effectiveness in capturing 99.97% of airborne particles that are as tiny as 0.3 microns. This includes mold spores, dust mites and pet dander. Notice, that the filter is genuine HEPA, meaning it's the most effective one in capturing tiniest particles. Many manufacturers use similar types of filters and call them HEPA-type or HEPA-grade. Though they also might be rather effective, only true HEPA guarantees the best results at removing pet dander, mold spores, pollens, etc.
UV-C bulb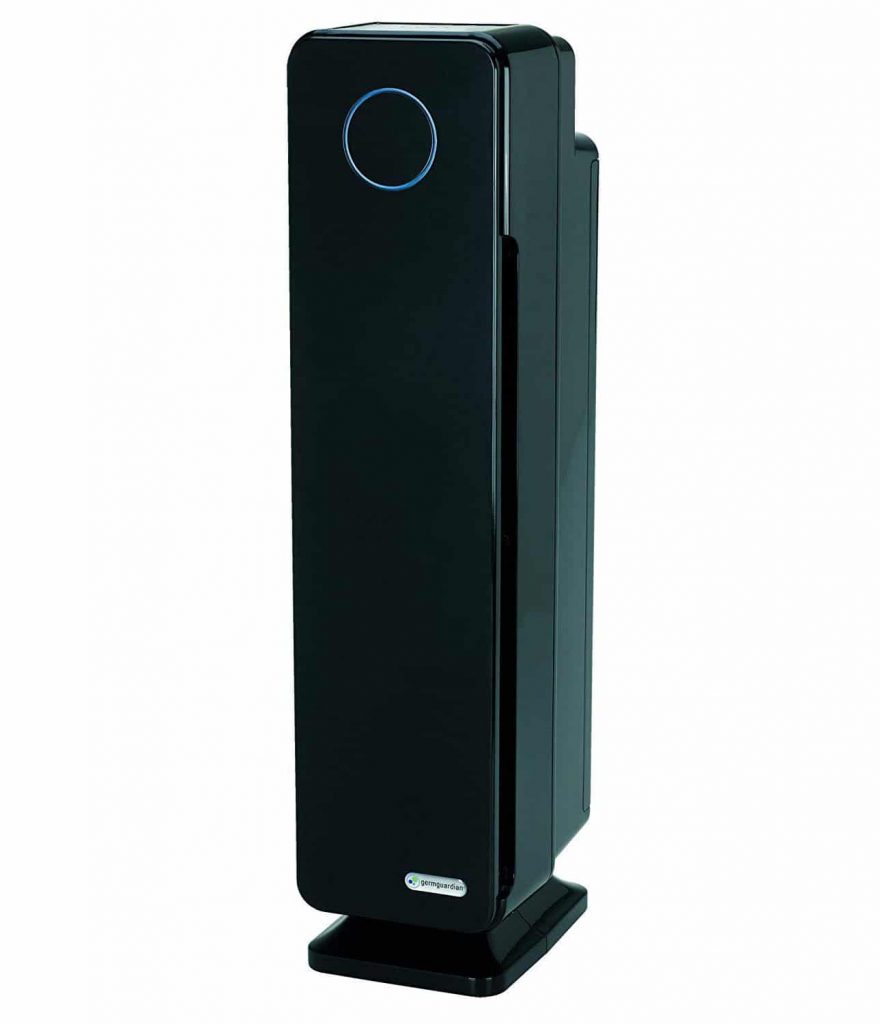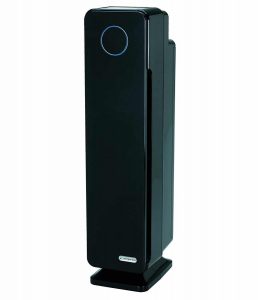 It uses short-wave ultraviolet light technology that works with titanium dioxide to destroy mold, microbes, and pathogens and prevent their further reproduction. UV-C has photons with the most energy and the fastest vibration which changes the DNA structure of these airborne microorganisms to neutralize them and disinfect your room, making GermGuardian AC5350B the best air purifier for people with asthma and allergies.
You can safely use this air filter without worrying about ozone emissions because it is approved by the California Air Resources Board whose goal is to attain and maintain healthy air quality. You can also turn off the UV-C filter by pressing the UV-C control button on the digital display panel located at the top of the unit.
CADR
CADR refers to Clean Air Delivery Rate. The Association of Home Appliance Manufacturers (AHAM) performs independent tests on air purifiers to determine their effectiveness in filtering out dust, pollen and tobacco smoke from the air in a room with a specific coverage. It then assigns them a rating based on the volume of air that has been filtered at the end of the tests. AHAM insists that their rating focuses on the end result, not the method of filtration used. They measure the volume of particular contaminants before activating the air purifier, and then compare that to the volume of the reduced contaminants at the end of the experiment.
CADR uses ANSI/AHAM AC-1 test which is measured in cubic feet per minute. The air purifier is activated for 20 minutes on maximum power. A higher rating indicates a higher speed and greater effectiveness of an air purifier in eliminating pollutants. GermGuardian AC5350B has a CADR rating of 114 for dust, 127 for pollen, and 108 for smoke.
Power consumption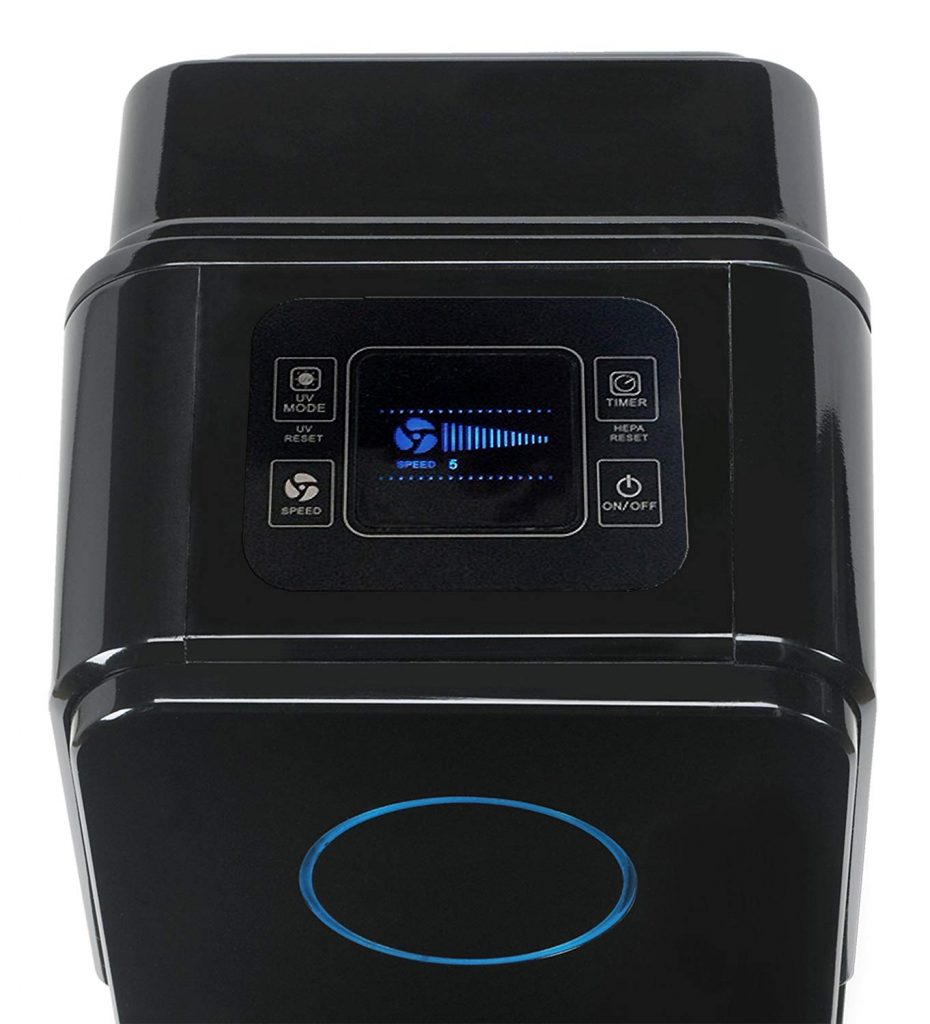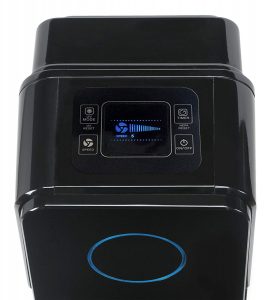 Despite its high performance, GermGuardian AC5350B has a low power consumption of 120 volts or 50 watts which has earned it certification by Energy Star for efficiency.
The unit comes with a six-foot long power cord which gives you more flexibility when setting up your air purifier.
Portability
This is a lightweight model made of ABS plastic, weighing only 11.25 pounds, with a built-in handle for convenient transportation from one room to another. Featuring a sturdy base and a space-saving tower design with a length of 9.1 inches, width of 6.7 inches and height of 27.6 inches, GermGuardian AC5350B is a stylish and compact addition which can be set up anywhere in your office or home, and the black onyx color makes it inconspicuous enough to blend into any surrounding.
Air circulates into the unit from the rear and the filtered air is released from either side of the air purifier. To prevent obstruction of air flow around the vents, you will need to leave a clearance of 12 inches from walls and other objects.
Where to use it
GermGuardian AC5350B has an ACH rating of 4x, meaning it will purify your room every 15 minutes. ACH stands for Air Changes per Hour, which refers to the number of times the full air in a room can be exchanged every hour. ACH rating indicates the power of an air purifier by calculating the number of times it can clean a room of a specific size.
This portable model is effective in cleaning small to medium-sized rooms with coverage of up to 167 square feet, such as an office, bedroom, or living room of a small household. According to the verified buyers' GermGuardian Elite AC5350B reviews, some users have found it to be working excellently in their rooms measuring 300 square feet.
Price
Pricing depends on the features and capabilities of the air purifier. Considering its performance, this model is reasonably priced to effectively clean your home without burning a hole in your pocket. It is effective enough to eliminate 99.97% of harmful particles yet easy to operate and maintain. The filters will serve you well for at least six months before requiring replacement.
Key features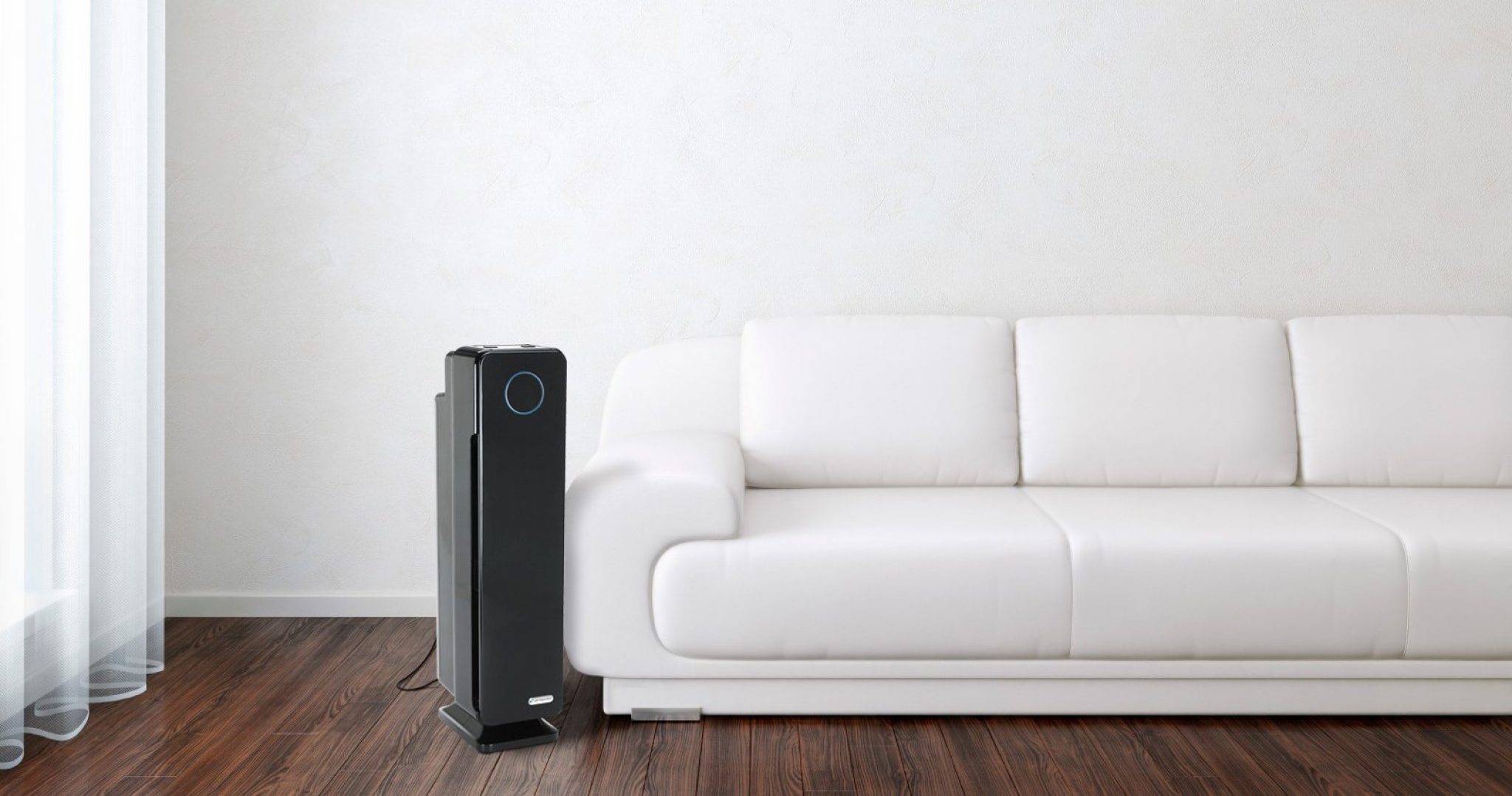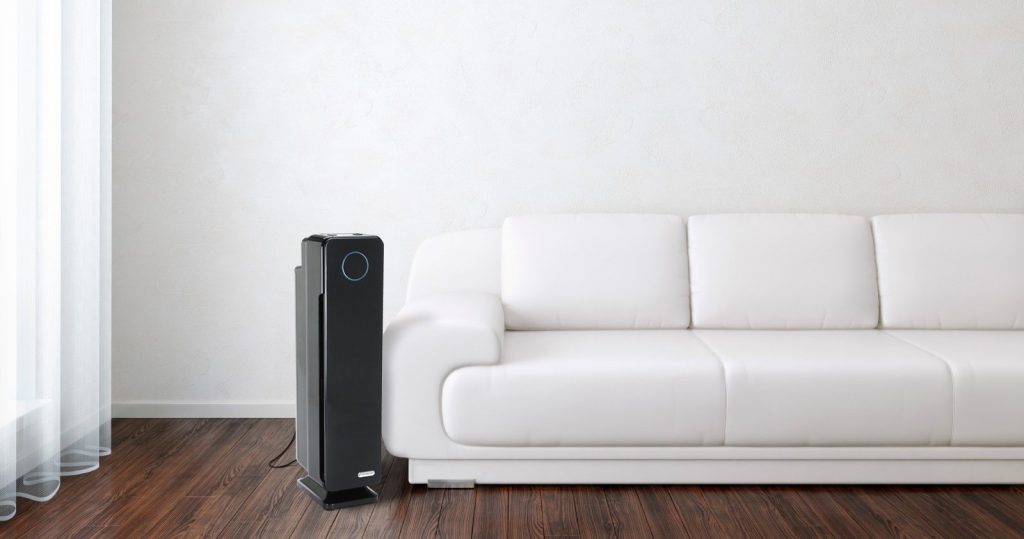 4-in-1 filtration system – This includes a mechanical pre-filter, an activated charcoal filter, true HEPA filter and UV-C light technology. So, actually, no wonder that this model is considered to be one of the best GermGuardian air purifiers exactly due to its pre-filter technology.
Low power consumption – It runs on 120 volts or 50 watts of power which helps you to save on energy bills.
Stylish and sleek tower design – The glossy black color blends in with various décor while the slim tower profile can easily fit in small spaces.
Light weight and compact size – It weighs 11.25 pounds which is convenient for portability and storage. You can easily move it to clean different rooms.
Coverage of up to 167 square feet – This makes it ideal for small and medium-sized rooms which it cleans four times in an hour, as indicated by its ACH rating of 4x.
5 speed settings – You can change the speed of the fan from 1 for low speed to 5 for the highest speed, depending on your needs and preference. However, this unit does not have sensors to detect the level of pollution and adjust the fan speed accordingly.
Filter change indicator – When the filter is due for replacement, the unit beeps for 30 seconds and an alert with 'HEPA Reset' flashes on the digital screen. Once you replace the filter, press and hold down the timer button for approximately 3 seconds to clear until the red light goes off.
Timer – This is a convenient feature which allows you to program the amount of runtime from 1 to 8 hours to preserve energy.
Electronic controls – By simply pressing a button at the top of the unit, you can switch the unit on or off, switch the UV-C light on or off, activate the timer, or change the fan speed.
Quiet operation – Speeds 1 to 3 are so noiseless that you will forget the unit is running. When operated at the highest fan speed of 5, it emits 60 decibels which is the equivalent of a normal conversation. Buyers describe this as the perfect white noise. This kind of "noise" is quite soothing and effective in lulling babies to sleep.
Industry certification – GermGuardian AC5350B Elite 4-in-1 air purifier has been reviewed, rated and certified by Energy Star for its energy efficiency, AHAM for its effectiveness in removing particular pollutants, and CARB for its safety in preventing harmful ozone emissions.
Competitive price – It has a great price-performance ratio that will give you value for your money.
PROS
CONS

Low power consumption
Eliminates 99.97% of harmful particles from the air
Stylish and sleek tower design
Light weight and compact size
5 speed settings
Filter change indicator
Built-in timer
Quiet operation
Certification by Energy Star, AHAM and CARB
Competitive price

LED light cannot be turned off
Additional cost on bulb and filter replacement
No sensors
Wrap-up
GermGuardian AC5350B air purifier has earned several glowing reviews from verified buyers and experts because it blends the superior performance of costlier models with the competitive pricing of entry-level and mid-range air purifiers. The digital controls are easy to operate with adjustable speed settings, a programmable timer and maintenance alerts for the filter, and the light compact-sized tower design can fit in any room without hogging space. Certified by the relevant authority bodies, you are assured of low energy bills, safe usage of the GermGuardian AC5350B, and protection from harmful emission and airborne allergens.