Many of us are aware of the increasing problem of air pollution. When you check the weather, you may take note of the air quality index each day, particularly if you have seasonal allergies or breathing difficulties.
However, according to the EPA, our indoor air could be just as problematic as the pollution outside. Since we have greater exposure to the air inside our homes, even minor quality issues can have detrimental effects, such as irritated sinuses, headaches and fatigue. Fortunately, there are lots of air purifier models on the market to improve your indoor air quality.
The Blueair Classic 280i is packed with features, so you can use it in various areas of your home. It can cover up to 279 square feet, making it suitable for most rooms. In this Blueair 280i review, we'll delve into the features and functionality of this model to help you to make an informed purchase decision.
Specifications
Filter type
Activated coconut carbon
Air changes per hour (ACH)
4.8
Noise level
32 - 56 dB(A)
Dimensions
27 x 17 x 8 in
Review
Blueair has five families of air purifiers, with the Blue line at the budget end of the market and the Pro at the top of the line. The Blueair Classic 280i is an impressive air purifier model at a reasonable price point.
However, with so many models in the Blueair line, it can be tricky to find the best one for you. So, here we'll delve into some of its features, so you can determine if it is a good choice for your home.
Overall performance
The Blueair Classic 280i is an efficient air purifier with varying levels of pollution. The model filters the room air at the industry recommended rate of five times per hour or approximately every 12 minutes in a room up to 279 square feet. This can ensure that particle levels are lowered to maintain a comfortable environment in your living space, bedroom or other areas of your home.
The model has integrated sensors that can auto adjust to the current conditions to maintain a healthy indoor air quality. The 280i has advanced filtration to remove myriad pollutants including airborne bacteria, pollen, mold, dust and gases such as smoke, cooking odors and chemicals. Despite this, the 280i is one of the quietest models on the market and it was even awarded a Noise Abatement Society Quiet Mark.
The 280i has a unique combination of mechanical and electrostatic filtration that Blueair has patented as HEPASilent. This combination creates filters that require less air pressure compared to a standard HEPA filter as they are less dense. Yet, this does not compromise performance, so you can enjoy a more energy efficient and quieter air purification. The unit has a low energy consumption using 20 to 80 watts, which allows you to run the air purifier 24/7 using less energy than a traditional light bulb.
Filtration technology and filter types

The Blueair 280i features the same filtration technology as the Classic 203 and Classic 205 Blueair models. This means that the 280i benefits from the superb HEPASilent technology.
There are two filter options for this model. The first is a Particle Filter that can capture 99.97% of pollutants including mold spores, dust, pollen, viruses and bacteria, down to a size of 0.1 microns. The other option is a DualProtection Filter. This is a combination of a True HEPA filter Trusted Source HEPA Filter Benefits for Allergy Relief WebMD discusses the benefits of HEPA filters for relieving allergy triggers in your home. www.webmd.com and an activated carbon filter.
The carbon filter uses coconut carbon which can filter compounds up to four times faster than basic carbon filters. This filter is an upgrade option but it does have the benefit of being able to trap gas pollutants such as smoke, VOCs and household odors.
Coverage area
Unlike many air filtration units that are only designed for modest sized rooms, the 280i has a large coverage area. In fact, Blueair specializes in powerful air purifiers, as the 280i's big brother, the Pro XL has a CAD rating of 1000 cfm.
The 280i has a coverage capacity of 279 square feet with a CADR of 200 for dust, 200 for pollen and 180 for smoke. This makes it an effective and efficient air purifier.
Fan speeds
The Blueair 280i has three fan speeds, so you can adjust the power to suit the specific circumstances inside your home. This means that you can use the unit at high power when you're cooking in the kitchen, but drop it down to low for overnight use in your bedroom.
Air changes per hour (ACH)
The 280i has an ACH (Air Changes per Hour) rate of 5x. This suggests a highly efficient processing unit, which has the ability to clean your room every 12 minutes.
Dimensions and weight
The Blueair 280i has a classic design that is a little simplistic, but it does allow it to be compact and easy to move. The unit has dimensions of 21 inches high and 17 inches wide, which makes it unobtrusive in most rooms.
However, with its metal panels, it does have a fairly substantial weight of 20 plus pounds. Since it doesn't have casters, it may be tricky for some users to move it from room to room.
Noise level
Blueair has called its filtration technology HEPASilent for good reason. This unit has modest noise levels Trusted Source Harmful Noise Levels | HealthLink BC The effects of noise on hearing vary among people. Some people's ears are more sensitive to loud sounds, especially at certain frequencies. (Frequency means how low or high a tone is.) But any sound that is loud enough and lasts long enough can damage hearing and lead to hearing loss. A sound's loudness is measured in… www.healthlinkbc.ca even on the highest settings. At the highest fan setting, the 280i produces 56 decibels of noise, which is lower than the noise levels of a normal conversation.
However, at the lowest fan speed setting, the unit maintains a noise level of 32 decibels, which is barely more than a whisper. This makes it ideal for use overnight, as the noise level is unlikely to disturb your sleep.
Connectivity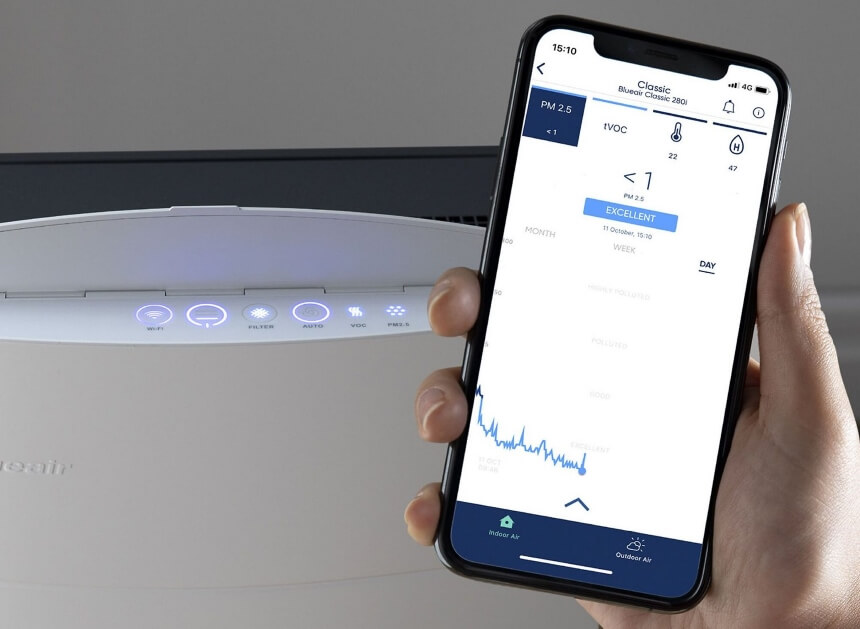 One of the great features of this air purifier is its connectivity. You can connect the 280i with the Blueair Friend app and fully explore its capabilities. Connecting your air purifier with the app is easy and straightforward, but it can take a little time to boot up the app.
Once the app is paired with your air purifier, you'll see a graphic of various metrics. This includes levels such as TVOCs, PM2.5, current temperature, humidity in the room and equivalent CO2 levels. The gas levels and particulates are shown in graph form and you can view live readings or the values over the previous day, week or month.
Connecting the app also allows you to remote control the features of the air purifier, including adjusting fan speed, changing LED brightness and enabling the child lock.
Controls
The Blueair 280i has a flap on the top of the unit which conceals the LED backlit buttons. This allows you to control all the functions of the air purifier. There are buttons to display the WiFi connectivity status, fan speed control and LED indicator for the filter life.
You can also use the Night Mode controls that allows you to set a schedule for when it should run including the days of the week.
LED screen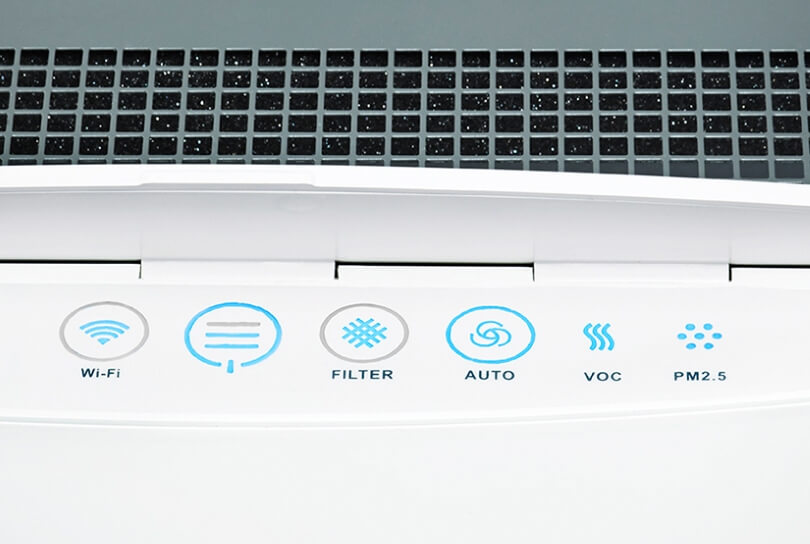 All the controls on the 280i are LED and backlit. However, the main LED screen relates to the filter life. This indicator starts as blue when the filters are newly installed and gradually turn orange to show when you need to replace them.
There is also an LCD indicator for the levels of PM2.5 and VOCs in the air. Like the filter light, they start out blue and turn orange when the levels increase past permissible limits.
Sensors
The Blueair 280i has two air quality sensors and an auto mode to make proper use of them. In addition to getting readings of the current pollutant levels inside the room via the app, you can switch to auto mode and the 280i will automatically adjust the fan speed according to the pollutant levels.
Warranty
The 280i is provided with a one year Blueair warranty, but this is extendable to up to five years. You can do this by registering your purchase on the Blueair website. This warranty covers repair or replacement should the air purifier develop a fault during the warranty period.
Price
The Blueair 280i does have some premium features, but this does come with a premium price tag. The 280i is one of the most expensive models in the Blueair product line. However, at that price point, it is still considered a mid range air purifier. So, unless you are looking for a budget model, the 280i is a reasonable offering.
PROS
CONS

Up to 5-year warranty
Accurate smart sensors teamed with auto mode
Great performance ratings
WiFi enabled with compatible app

A little expensive compared to other Blueair models
No remote control, only app and unit panel controls.
FAQ
Is this model better than the Classic 205?
While both models have the same recommended room size, the Classic 205 is a more basic unit overall. It does not feature the built-in sensors, automatic mode feature or the option for the advanced DualProtection filters. So, this makes the 280i a more comprehensive and effective model if you're looking for greater air purification inside your home.
How do you reset the filter replacement indicator?
Although the filter replacement LED indicator is a very useful feature, it will not be effective if you don't reset it when you put in a new filter. Fortunately, this is very easy to do. All you need to do is press and hold down the status LED for approximately 10 seconds and it will reset the light from orange back to blue.
How do I register my purchase?
You can extend the limited Blueair warranty for up to five years by registering your purchase. All you need to do is visit the Blueair website or use the Blueair mobile app within 60 days of purchase. Click on the "Warranty" section and complete your details.
How do you troubleshoot connectivity issues?
The 280i features a WiFi indicator, but if you are having difficulty with your WiFi connectivity, there are some troubleshooting steps you can follow to correct the problem. As with most WiFi enabled devices, the first thing you need to check is that your network is connected to the internet. You should also check the network name and your password are correct. If these details are correct, try unplugging the electrical outlet cord and plugging it back in.
If all these measures still fail to resolve your connectivity issues, you'll need to contact the Blueair support team.
Can you disable the WiFi function?
If you don't need the connectivity function on the Blueair 280i, it is possible to disable the WiFi function. To do this press both the WiFi and filter buttons at the same time for a minimum of three seconds. This will disable the WiFi and it will be reflected on the WiFi status indicator.
If you do need to turn the WiFi function back on again, press and hold the WiFi button for a minimum of three seconds.
Just bear in mind that whether you want to turn the WiFi function off or on, you can use the child lock function to prevent accidentally reversing your decision.
Conclusion
The Blueair 280i is an efficient air purifier that is packed with features. The concealed control panel has LED illuminated buttons for all the functions including night mode, child lock, and fan speed. There are also indicators for WiFi connectivity and filter lifespan. This makes this model remarkably easy to use. It has the capacity for rooms up to 279 square feet, yet it is whisper quiet on the lowest fan speed settings.
While it is not the cheapest model in the Blueair line up, this model does have some innovative features that are only found on the top of the line Blueair models. For example, the 280i has HEPASilent filtration, which is less dense than a True HEPA filter, so it requires less airflow without compromising filtration performance. This makes the 280i remarkably good value.
So, hopefully, this Blueair 280i review has highlighted the benefits of this model and provided you with the information you need to make your purchase decision with confidence. While it may not be the best model on the market, the 280i is certainly worthy of serious consideration for anyone looking for efficient air purification in their homes.
References
1.
HEPA Filter Benefits for Allergy Relief
WebMD discusses the benefits of HEPA filters for relieving allergy triggers in your home.
2.
Harmful Noise Levels | HealthLink BC
The effects of noise on hearing vary among people. Some people's ears are more sensitive to loud sounds, especially at certain frequencies. (Frequency means how low or high a tone is.) But any sound that is loud enough and lasts long enough can damage hearing and lead to hearing loss. A sound's loudness is measured in…