Clean air within the home and the workplace is critical to our overall well-being. A high-quality air purifier like the Blueair Blue pure 211+ is the best and easiest way of topping the circulation of polluted air. It also traps and eliminates odors. The Blue Pure 211+ is the middle child and the most popular of the Blue Pure family. According to consumer reports, it is the 2nd best rated air purifier that money can buy.
The Blue Pure 211+ markets itself as an attractive well-designed air purifier that removes common airborne pollutants and allergens like dust mites, smoke, mold spores and odors. It distinguishes itself apart with its ability to accommodate high ceilings, open floor plans, and other large spaces while still being energy-efficient. Although it has a low-dense particle filter, it works just as good as high-efficiency filter air purifiers, aka HEPA. Our detailed Blueair Blue Pure 211+ review analyzes the unit's specs, features, pros and cons. Read on to find out if it's a worthy buy.
This product's also been included into these rankings:
Specifications
Filter type
Washable pre-filters, activated carbon filter
Noise level
31 - 56 dB(A)
Dimensions
20 x 13 x 13 in
Review
The Blue Pure 211+ is named Wirecutter's Best Purifier 2020 and Best overall air purifier at Good Housekeeping Lab Pick 2020 Trusted Source Recipe Ideas, Product Reviews, Home Decor Inspiration, and Beauty Tips - Good Housekeeping Good Housekeeping is your destination for everything from recipes to product reviews to home decor inspiration. www.goodhousekeeping.com . Its popularity goes without saying. The sustainability and quality of the air purifier is typical of all Blueair products which they claim is inspired by their Swedish heritage. Here are some of the key features that set the Blue Pure 211+ apart from other air purifiers.
Overall performance
The Blue Pure 211+ is a high-performing air purifier. It comes in a lightweight compact build that is easy to handle. Its customizable filter colors and one button-control makes it super-easy to use.
According to the AHAM Verifide® Program for room air cleaners, the air purifier offers a Clean Air Delivery Rate of 350 cfm for smoke, dust and pollen particles. It can be used in large rooms like large living rooms, playroom and family rooms. With its 360 degrees air intake capability, the purifier can completely filter room air every 12 minutes at the highest speed.
Moreover, the purifier features a 3-step combination particle and carbon filter which joins forces with Blueair's HEPA silent filtration technology to remove up to 99.97% of airborne particles like dust, pet dander, pollen, mold, bacteria and viruses. The filter has an additional layer of coconut carbon that traps light household odors from cooking, pets and smoking.
The Blue Pure 211+ operates on very low noise levels and is energy efficient.
Filtration technology and filter types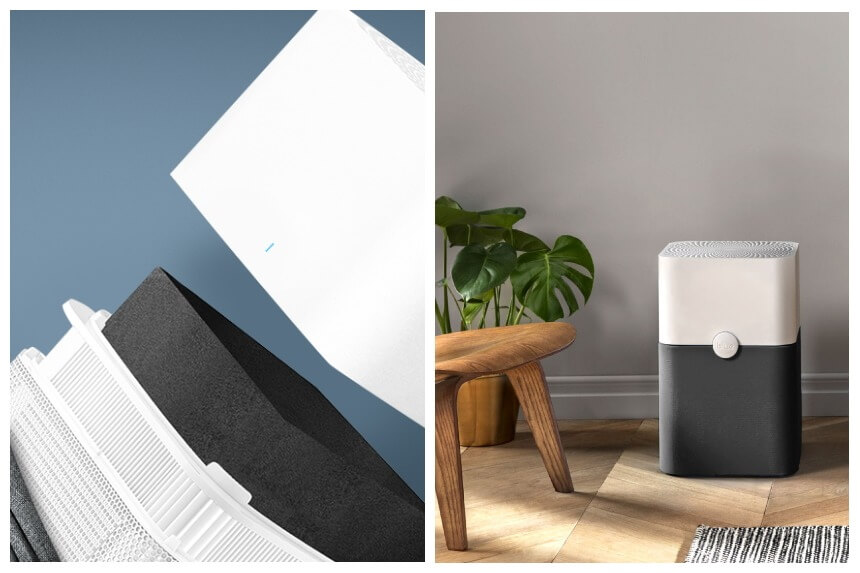 The Blue Pure 211+ is Blueair's most outstanding unit because of its super-efficient filtration technology and filter types. It features a 46 sq.ft pleated particle filter that is made of Polypropylene, which, is the same material used to make HEPA filters.
The particle filter can remove up to 99% of particles in the air at a 0.1 particle size. This is very close to the highly acclaimed HEPA performance. It is capable of capturing all the household particles including dust, pet dander, mold spores, air bacteria, viruses and smoke.
The particle filter is backed by Blueair's HEPA silent filtration technology that is essentially an electrostatic method. The technology is proven to be safe for the environment as it is CARB certified and doesn't produce a traceable amount of ozone.
As if that's enough, the particle filter is backed by an activated Carbon filter. It works to remove all the household odors from cooking, pets, smoking, VOCs, smog and airborne chemicals. However, according to the latest research, the mesh-type carbon filter is less effective than the granular carbon filter and the pellet-based filter.
For top-notch efficiency, you have to replace the particle filter every 6 months.
Coverage area
The Blue Pure 211+ can be used in large rooms like the living area, playrooms and family rooms thanks to its 360 degrees capability to draw in air from all sides of the room. This ensures adequate air circulation and prevents any pollutants from escaping.
The 360 degrees air circulation combines with the purifier's impressive Clean Air Delivery Rate of 350 cfm to clean up air in a space as large as 540 sq.ft. five times within an hour.
Here is an Air changes per hour calculator that you can use to get the suitable room size for the purifier based on the air conditions in your space.
Fan speeds
The air purifier has 3 fan speeds: low, medium and high. You can adjust the speeds by simply pressing the single control button features on the purifier. You can use the low and medium setting when the air is fairly clean, and the high-speed setting when you need the air cleared faster.
The CADR of this air purifier is incredibly powerful and surpasses even the most popular high-fan powers. The CADR rating is 350 cubic feet per meter (cfm) for dust, pollen and smoke. This contributes to its incredible ability to clean the air in your space at a flash speed.
Air changes per hour (ACH)
The Blue Pure 211+ has a massive 4.8X rating ACH. Blue air is a popular brand known for its high-end German-engineered fans with high air changes per hour ratings. It is no surprise at all that this air purifier ranks high on the ACH spectrum. The high air exchange rate means it can clean your room every 12 minutes.
Dimensions and weight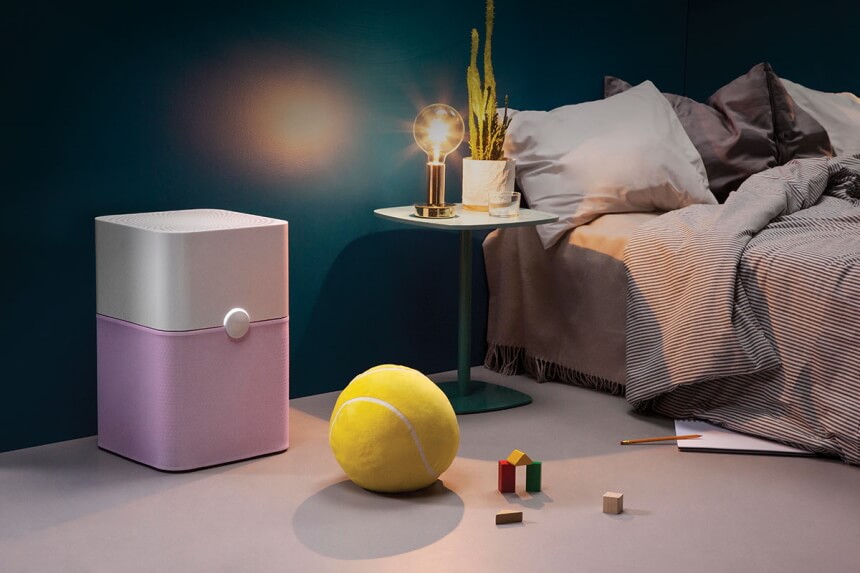 The Blue pure 211+ comes in a laid-back design with a variety of colors including blue, yellow, black, pink and gray. It is marketed as a compact air purifier with a slightly shorter build and significantly smaller footprint than other members of the Blue Pure family.
The air purifier measures 12 by 12 by 20 inches, which is not the smallest build size out there. It is safe to argue that the proportions serve a purpose; which is to clean up as much air around you as possible. To add on the fairly big build size, the unit weighs a whopping 12.5 pounds. Compared to other models within its range, it is easier to handle and move around.
Noise level
The noise level of the Blue Pure 211+ is impeccably low. This is quite surprising as the unit features a huge and powerful fan. It owes it silent operation to the HEPA silent technology that aims at reducing noise level.
You will only get a common noise level of 31 to 56 decibels from the 3-fan speed air purifier. 31 decibels is half the noise level of a library. 56 decibels is also still acceptable even at the highest setting.
You would think of going for an air purifier with a lower noise level but the fan power is highly likely to be lower as well. The Blue Pure 211+ balances its fan power and noise well.
Controls
When it comes to controls, the Blue Pure 211+ is a very simple machine. It eliminates the hassle of adjusting knobs and settings with a single button. The button makes it very straightforward and user-friendly. Forget about installing an app or making a Bluetooth connectivity.
All you have to do to control the air purifier is push the big button once to get low air circulation speed, twice for medium speed, thrice for high speed and four times to turn it off. Could it be any easier? Moreover, the single button control makes setup a breeze as well. All you have to do after unboxing is throw in the outer covering then plug it in.
Warranty
Just like all the other air purifiers by Blueair, the Blue pure 211+ is backed by a 1-year limited warranty. The warranty only cover normal household use. It doesn't cover filter replacements. Blueair believes that the purifier will be free of defects within the 1st year of use after purchase, provided you replace the filters according to the manufacturer's recommendations.
You can extend you're the warranty to 2 years by creating an account on Blueair's website and registering the product by filling a form provided.
Price
The blue pure 211+ is competitively prices. It holds a solid spot in the low-range tier for home-based air purifiers. The unit costs 299 dollars which is pretty fair considering the air filtration it provides for large spaces. It competes with the likes of Honeywell HPA 300 and AIRMEGA 2000 price wise, which are high-end contenders with top-notch performance. This speaks volumes about its quality and pennyworth.
The price tag becomes cheaper when you think of its efficiency. Since it is incredibly low on energy consumption, you would never notice its effect on your electricity bill, which is just a huge plus for most people.
Power consumption
This is a crucial aspect worth considering before investing in an air purifier. Air purifiers need to run continuously to be effective. The Blue Pure 211+ is the energy saver of the Blueair family and it is even Energy star rated. It runs on 30 to 60watts only. This is half of what other purifiers within its range consume.
The unit would cost you anything between 11 and 21 dollars annually which is pretty affordable given it features a powerful fan. If energy efficiency is at the top of your list, then the Blue Pure 211+ and the Blueair Sense+ should be your prime investment options.
LED warning system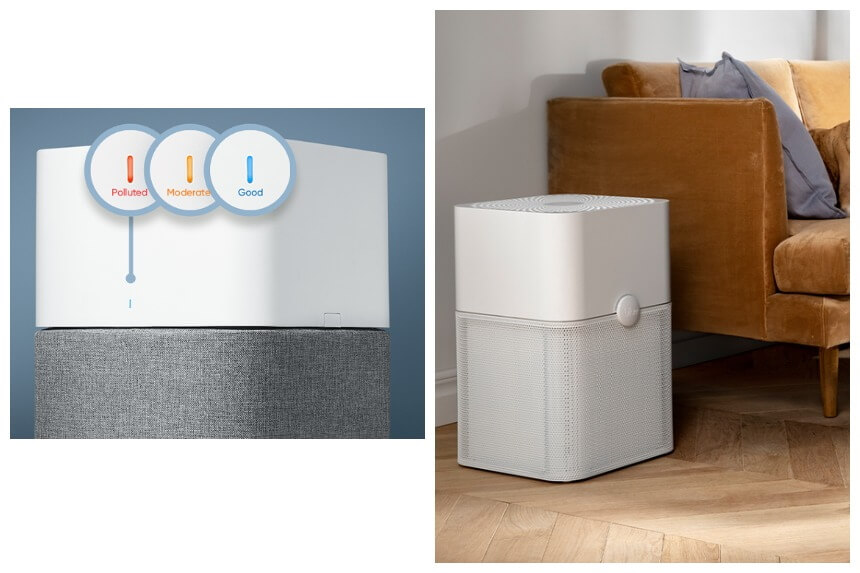 The Blue Pure 211+ features a built in LED-warning system. The LED system glows red to warn you that it's time to replace your filter. Remember you have to replace the filter once every 6 months for top-notch efficiency.
Replacing the filter requires zero expertise. You would have to remove the pre-filter, which gathers the most dust, then toss it in the washer. As for the main filter, you would have to remove the top half of the purifier, before sliding it out. The filter goes for around 70 dollars which is an okay price for twice a year.
PROS
CONS

3-stage filtration system that removes both gaseous and particulate pollutants effectively
High airflow rate that removes pollutants faster
Multicolor fabric pre-filter option
Whisper quiet operation
Easy-to-use one-button minimalist design
Low energy consumption
CARB approved and AHAM certified

No air quality sensor
No carrying handle or caster wheels for easy portability
No timer function
Blueair Blue Pure 211+ Alternatives
The Blue Pure 411 is the most popular alternative for the 211+. They are both effective, easy to maintain air purifiers with features that qualify them as top-end models. They share so much in common but have a few features that distinguish them from each other. Which one should you buy? Here is the showdown:
Blueair Blue Pure 211+
Blueair 411
Filtration system
3-Phase-Washable Pre-filter

Particle Filter

Activated Carbon filter

3 Phase-Washable Pre-filter

Particle Filter

Activated Carbon filter

Air exchange rate
5x
5x
Room coverage
540sq.ft
161sq.ft
CADR rating
Smoke: 350 cfm
Dust: 350 cfm
Pollen: 350 cfm
Smoke: 105 cfm
Dust: 120 cfm
Pollen: 120 cfm
Noise
31 – 56 dB
17 – 46 dB
Controls
Single-button
Single-button
Fan speed
3-speed settings
3-speed settings
Filter Change Frequency
6 months
6 months
Similarities
3-stage filtration system- Both units use the 3-phase filtration system. Also, they both have the 360 degree air intake capability.
Noise- Both 211+ and 411 have fans that consume different amounts of energy but are reasonably quiet. The fans don't have the whisper silent setting but they feature a special Polypropylene filter media that reduces the noise they produce at low and medium settings.
Differences
Size and Design- the 211+ is basically a white square box with 2 internal filters, one external filter and a 3-phase filtration system. The 411, on the other hand, is a slightly smaller cone. Its small footprint makes it more practical when it comes to portability and saving floor space. On the flip side, the smaller frame reduces its pumping power. So, if you need an air purifier for a large room the 211+ is a better option despite its big build.
The 211+ can circulate air in a room as large as 540 sq.ft while 411 can circulate air in a medium sized room of up to 161 sq.ft.
Economy – the 211+ features a powerful yet reasonably economic fan. It has the highest CDR rating of 350 cfm yet it only consumes 60 watts of energy. The 411 is less powerful, thus its fun motor consumes less energy; 1.5 watts. It is even more economical than an LED light.
Conclusion
Our Blueair Blue Pure 211+ review depicts the popular air purifier as a solid bet for anyone who's looking to get the air in their living space filtered. It is a good-looking energy-efficient purifier that will do an awesome job to purify the air in your space at a buying price that wouldn't dent your wallet. We highly recommend the air purifier for you if you live in an area prone to wildfires, urban smog and dust.
References
1.
Recipe Ideas, Product Reviews, Home Decor Inspiration, and Beauty Tips - Good Housekeeping
Good Housekeeping is your destination for everything from recipes to product reviews to home decor inspiration.