Many of us are concerned about pollution and how it can affect our health. However, while this may be a valid concern, according to the EPA, our indoor air quality also has a direct link on our health and wellbeing. So, it is important that when you are inside your home, your indoor air quality is as good as it can be. This Dyson TP04 review will tell everything about an air purifying fan, you can use in your living area or bedroom. This 40-inch-tall unit has a unique bladeless amplifier loop that oscillates and you can set the airflow direction forward or backward, so you can use it all year round. 
We'll delve into this ergonomically designed device to help you decide if it is the right choice for your home. 
Specifications
Dimensions
41.5 x 8.55 in
Review
If you have concerns about your indoor air quality and want to ensure that your room is clean and cooler, you'll need an air purifier. While there are lots of air purifiers on the market, Dyson has an excellent reputation. This brand has a focus on innovative technology and enhancing the user experience. The Dyson TP04 is packed with features and functionality. Here we'll delve into the various features to help you to make an informed purchase decision. 
Overall performance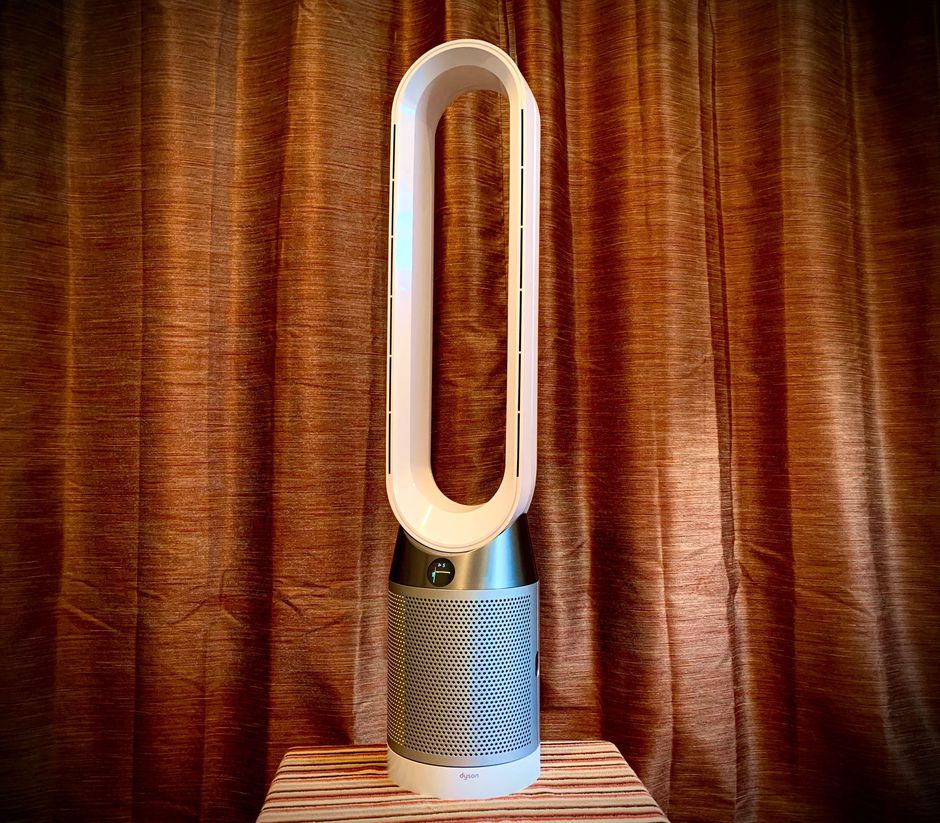 The Dyson TP04 is a stylish tower fan that has 10 speeds and purifies the air to help improve indoor air quality and cool the room. It can capture 99.97% of particles down to 0.3 microns in size. The TP04 can automatically detect and record your indoor air quality levels in real time, specifically in particulate matter of 2.5, 10, NO2 and VOCs. 
In fact, Dyson claims the TP04 is the only tower fan on the market that can properly clean a whole room. The TP04 also looks great, it is available in several different color combinations; black and nickel, white and silver and iron and blue. This unit can rotate to an almost fully circular 350º and you can control it using the LCD screen, remote control or free Android/iOS Dyson Link app. 
Filtration technology
The Dyson TP04 features innovative filtration technology that can remove odors, gasses and airborne particles down to 0.3 microns. There are also sensors that can detect any changes in air quality and automatically adjust accordingly. You can view the air quality information on the LCD panel or using the Dyson Link app. 
Remote control and app connection
As we touched on above, the TP04 is compatible with the Dyson Link app. This app is available for both iOS and Android devices and it allows you to monitor, control and schedule the air purifier from anywhere.
The TP04 has WiFi connectivity that supports 2.4 GHz or 5 GHz networks. This allows you to connect to almost any type of modern WiFi router. This air purifier is also compatible with all of the popular smart speaker systems; Google Home, Apple Homekit and Alex, making it easy to control the unit using voice commands. 
Integrating your TP04 with your preferred smart speaker, like the Echo Dot is easy. All you need to do is install the Dyson Alexa skill and enable it using the Dyson Link app. You can then control your TP04 with voice control, setting routines and automating functions. 
The unit also has a remote controller that allows you to adjust and schedule functions. The remote has buttons for all of the key features, setting oscillation, fan speed controls, auto mode, scrolling through the digital readout information panels and switching over the night mode. One nice touch with the remote is that it is designed to sit on top of the TP04 with magnets to keep it easy to find. 
Filter types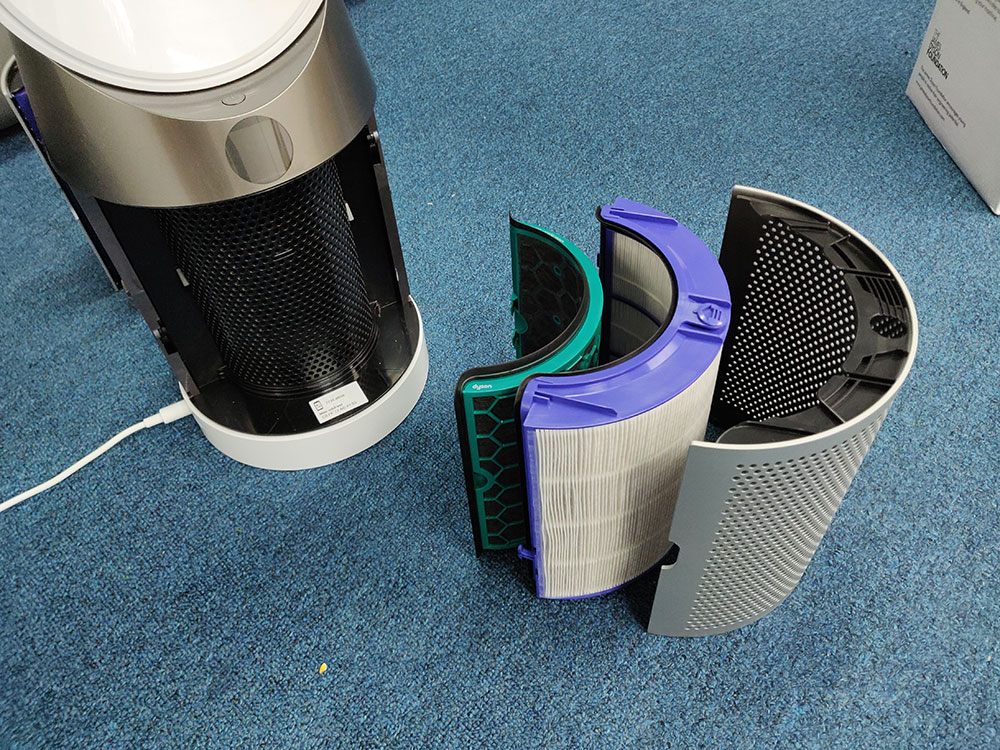 The Dyson TP04 features a true HEPA filter, which is larger than the previous model. HEPA filters can capture 99.97% of airborne particulates down to 0.3 microns. According to WebMD Trusted Source HEPA Filter Benefits for Allergy Relief WebMD discusses the benefits of HEPA filters for relieving allergy triggers in your home. www.webmd.com , HEPA filters can offer excellent improvements in indoor air quality, particularly for allergy sufferers.
The filter in the TP04 is pleated over 200 times and is in a sealed case, which can last up to 12 months. However, the display will show the remaining filter life, so you know if you need to change it before a year is up. 
The TP04 has a second-stage activated carbon filter that absorbs VOCs and light household odors. Dyson makes the claim that this new edition carbon filter has three times more carbon media compared to the previous generation. 
As with the HEPA filter, the carbon filter will need to be changed approximately every 12 months. You can check the filter status using the mobile app or using the LCD display. 
Speed
The Dyson TP04 has 10 fan speeds that you can choose from. There is also an automatic mode that adjusts the fan speed automatically based on the ambient air pollution. This is highly efficient and convenient, so you can enjoy improvements in your indoor air quality without needing to intervene. 
The TP04 also has a sleep mode, which not only dims the display lights, but will run the purifier with one to four speeds, so you can enjoy a peaceful night's sleep.
Dimensions and weight
The Dyson TP04 is a substantial unit. It is built in metal with a large base unit that creates an overall height of 41.5 inches. The diameter of the unit is also larger than many other purifiers at 8.1 inches. This is almost double the diameter of the previous generation model, so it can project a stronger airflow. 
Despite the fact that the TP04 is larger than many other air purifier units, it is amazingly lightweight. It weighs just 11 pounds, making it easy to move around your home. 
Noise level
One of the most attractive features of the Dyson TP04 is the advanced silent operation technology. This is a hallmark of Dyson devices and it is wonderfully showcased with the TP04. In many cases, the background noise in and around your home will drown out the sound of the fan completely. 
At the lower settings, the TP04 operates at just 40 decibels, which is a similar noise level that you would hear in a library. On the highest speed settings, the noise levels have the potential to reach 62 decibels. While this is significantly louder than the low settings, the noise level Trusted Source What Noises Cause Hearing Loss? | NCEH | CDC Noise is a significant source of hearing loss, but you can protect your hearing. An important first step is to understand how noise causes hearing loss. www.cdc.gov of a common air conditioner from 100 feet away is a similar sound level. So, you may find the fan speed sounds like white noise that could help you to sleep better.
Fan mode
There are three main fan modes on the Dyson TP04 air purifiers. The auto mode uses integrated sensors to detect the current air quality and automatically adjust the fan speeds as necessary to ensure the room is properly purified. 
The Custom mode involves several features that can be manually adjusted to your preferences. You can adjust the fan speed from 1 to 10, change the airflow direction and adjust the oscillation from 0º to 350º. 
Finally, Night mode dims the lights on the display to make it easier to sleep. You can also set a sleep timer. The timer has two-hour intervals and you can set it for up to 8 hours to ensure an uninterrupted night's sleep. 
Coverage area
The Dyson Air Multiplier technology and bladeless system ensures this unit delivers 15 times more air than comparable units. The TP04 can deliver up to 77 gallons of air per second or at top speed 617 cubic feet of air per minute. 
Since the TP04 has different oscillation angles covering up to 350 degrees, this model is ideal for larger rooms as it can provide superior air circulation. This provides ample capacity for rooms up to 800 square feet. 
LED screen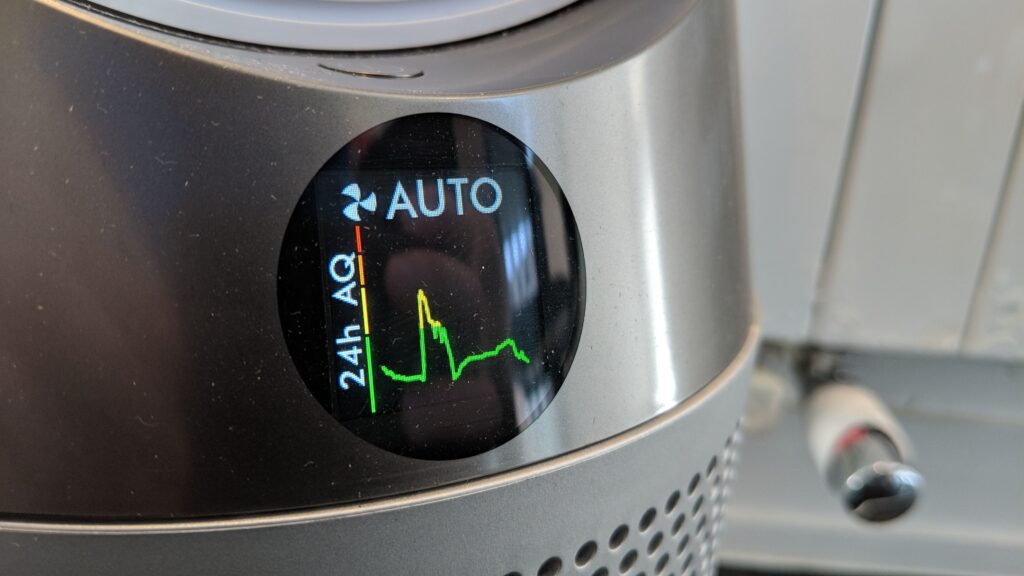 At the heart of the TP04 is its LED display. This display allows you to check the current status of your air quality. You can see a basic graph that shows how clean your home is. You can also use the LED display to check the filter lifespan and an estimate of when you will need to replace both the HEPA and Activated Charcoal filters. 
The screen also allows you to control the functions of the TP04. So, you can adjust the settings without needing to use the remote control, voice control or app, if you need to make a quick change to the fan speed, oscillation or mode. 
Sensors
The Dyson TP04 is packed with sensors that monitor the air quality around the unit. There are three core sensors, which detect particles, nitrogen dioxide and VOCs. 
The particle sensor is laser-based and counts small and larger pollutants. There are also humidity and temperature sensors. 
You can check the various air quality metrics using the onboard LCD screen or through the Dyson Link app.
These sensors provide a comprehensive report on your indoor air quality. This type of report would require a separate air quality monitor that would cost several hundred dollars.
Certification
The Dyson TP04 has a number of certifications. First and foremost, it is Certified Asthma and Allergy Friendly. This certification is issued by the Asthma and Allergy Foundation of America and provides reassurance for those with allergies or asthma sufferers. 
The TP04 has also been awarded the Parent Tested Parent Approved seal. This seal of approval is one that families trust, making it a good option for homes with children. 
Finally, the TP04 is Energy Star Certified, which means that this unit meets the stringent Energy Star standards for efficiency and energy usage. 
Warranty
The TP04 is supported by a two-year Dyson warranty. This includes parts and labor. There is also a 30-day money back guarantee should you decide the product is unsuitable for your home within the first 30 days. 
Price tag
Despite the impressive functionality and the ability to clean and cool a whole room, the TP04 has a reasonable price tag. While it may not be the cheapest air purifier on the market, the TP04 features sensor technology that you would typically only find on a high range unit. It also has superb integration with Amazon Echo and other smart speaker systems, so you can use voice commands, the app, remote control or even LCD screen buttons. 
While there are other purifier brands that add these fancy features on their models, this is typically reflected in the very high price tag. So, the TP04 is considered to be excellent value for money. 
PROS

CONS

All in one unit that is fan, air purifier and indoor air quality monitor
Multiple fan speed settings. You can also adjust the air flow direction, and oscillation.
Several modes to suit your needs
Supports smart speaker systems
Excellent Dyson Link app

No washable pre filter
Filters need to be replaced up to every 12 months and they are quite costly.
VOC sensor reports quite slowly.

Conclusion
While it may not be the cheapest option on the market, the Dyson TP04 is certainly packed with functionality. This model features numerous sensors to check particulates, Nitrogen dioxide, VOCs, humidity and temperatures. There is also great integration, as you can control the unit with the LCD display, remote, Dyson Link app or home smart speaker system. 
Hopefully, this Dyson TP04 review has provided you with all the details you need to make an informed decision about whether it is a good option for your home. 
References
1.
HEPA Filter Benefits for Allergy Relief
WebMD discusses the benefits of HEPA filters for relieving allergy triggers in your home.
2.
What Noises Cause Hearing Loss? | NCEH | CDC
Noise is a significant source of hearing loss, but you can protect your hearing. An important first step is to understand how noise causes hearing loss.