The Germguardian AC4100 is a truly multi-faceted, compact desktop air cleaner that is capable of cleaning your home air from bad odors, dust, smoke, pet dander, and more. This Germguardian AC4100 3-in-1 air purifier review was created to help you comprehend multi-tasking, three-stage air sanitization process of this unit, which consists of a UV-C light function, a charcoal filter, and a true HEPA filter. The heavy-duty HEPA is similar to the ones used in hospitals to keep the air clean which is why, probably, it is called the Germguardian. Although it is about the size of a small stereo speaker, it does an excellent job of reducing the amount of allergens floating in the air.
Part of this Germguardian air purifier model AC4100 review is the chart below, so that you can see all of its fantastic features at-a-glance, including the one-year limited warranty, the fact that it has three fan speed and that it is a triple threat with the ability to clean dust, pollen and smoke from a 78 square foot room. However, it is the UV-C light that is the star of the show when it comes to the Germguardian AC4100 as it emits ultraviolet germicidal irradiation helping you to breathe truly cleansed, clean air.
This product's also been included into these rankings:
Specifications
Filters type
charcoal; true HEPA
Coverage area
up to 78 sq. ft.
Energy Star certification
yes
Dimensions
7.5 x 6.43 x 10.95 inches
Germguardian AC4100 Review
In this desktop Germguardian AC4100 3-in-1 air purifier review we hope to provide customers with a more detailed look at the appliance's features such as its coverage area, multiple fan speeds and portability that allows it to be transported from room to room easily. This air cleaner is a powerful, lightweight multi-tasker that cleans up every microbe that could possibly cause an allergic reaction, create excess dust or an odor in your home. Furthermore, a look at all of the Germguardian AC4100's features is going to give you an idea of why this affordable air cleaner is so worth the money.
Overall performance
The overall performance of this small but powerful air purifier is the first thing we will discuss in our review. Part of evaluating its overall performance was to examine how effective the unit is at purifying the air within its designated square footage, which in this case is 78 square feet.
Perhaps the most impressive aspect of its overall performance is that it can remove 99.97% of airborne particles including plant pollens, household dust and mold spores that are as small as 0.3 microns in size. Thanks to its filters (HEPA and charcoal) this Germguardian appliance eliminates smoke and other pervasive odors such as mildew, cigar smoke, and pet urea. The speed at which your air is cleaned is determined by the twist of a dial on the side of the unit to a slow, medium or fast.
How it cleans the air
This Germguardian desktop air purifier cycles air through a thick layer of carbon that is sandwiched between the intake vent and a true HEPA filter. The fan pulls air through the intake vent and both filters and then sanitizes it with a UV-light before shooting it out into the room again.
Setting the unit on its highest speed is the most effective for removing odors from cooking, pets and tobacco smoke and like most units, it is most effective when all the windows in the room are closed tight. If you prefer a quiet, yet still efficient air cleansing operation while sleeping at night, then you can set the unit on the lowest fan speed.
Filters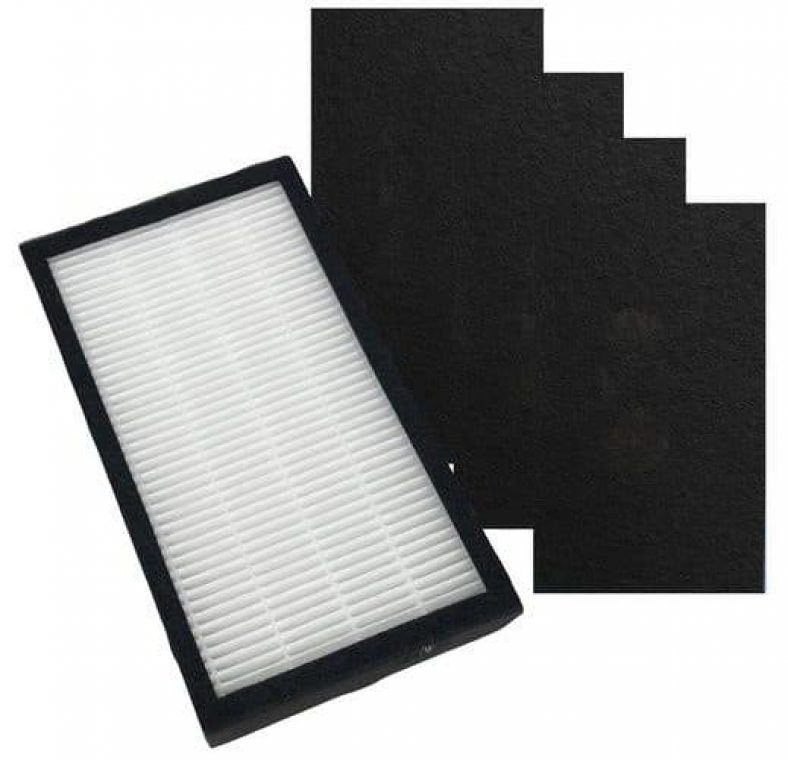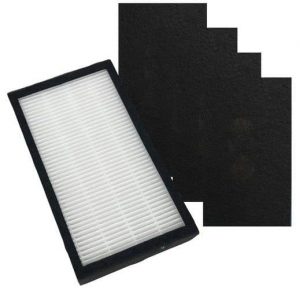 The carbon pre-filter helps to eliminate odors. The true HEPA filter catches dust particles, pet hair, pollen, and dust mites. Bacteria and viruses of all kinds are then removed by UV-C light that in tandem with titanium dioxide completely sanitizes the air. The system seems so simple, nevertheless it is surprisingly effective at keeping your house air clean, fresh, and hypoallergenic.
While researching this Germguardian unit, it was also revealed that it has a dial labeled with calendar month names. It rotates, helping you to mark how many months in a row you have had the filter inside of the unit. This indicator lets you know when it is time to change it, and the good news is that the HEPA filter is the only one that needs to be replaced every six to eight months, depending on the usage. To prolong your device's life, you can also purchase a pack of carbon filters separately, though it's not obligatory.
UV-C light
Germguardian has included a UV-C light function to kill airborne germs using a method that is officially known as ultraviolet germicidal irradiation. Staph, influenza and the rhinovirus (that causes the common cold) do not stand a chance against this advanced, yet still simple technology.
A beam of ultraviolet light serves to destroy the nucleic acids inside of pathogen cells as they are blown past it by the unit's fan. This disrupts their cellular DNA and renders them useless, reducing the likelihood of anyone contracting a cold or flu. The UV-C is also an optional feature of the air purifier that can be shut on and off, but only if you want the unit to deal with pollen or dust.
CADR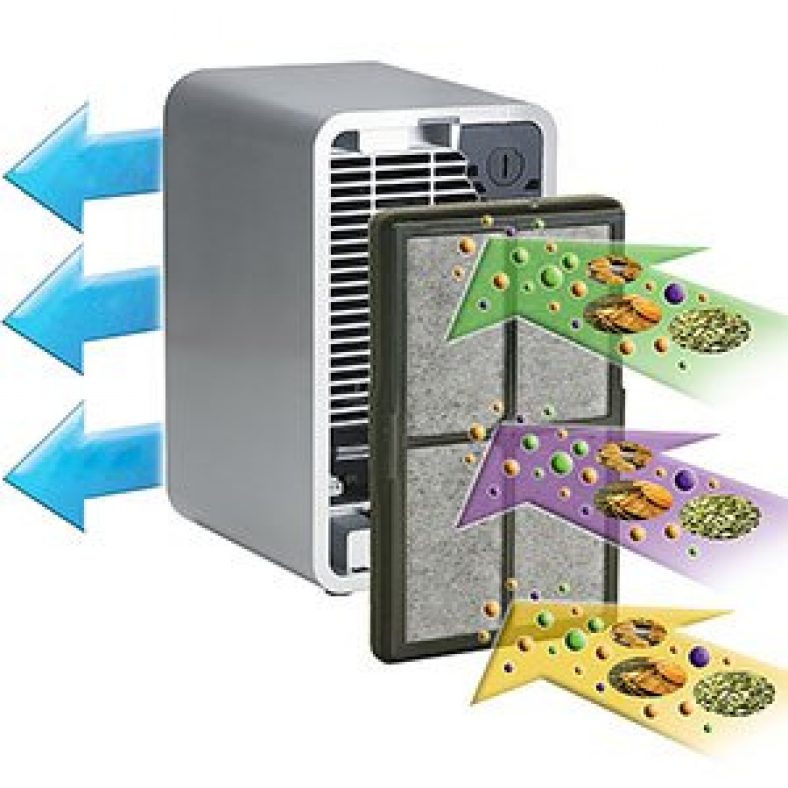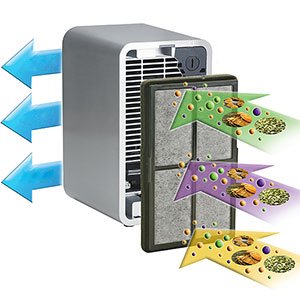 While investigating cleaning capabilities for this air purifier, its CADR for dust, pollen and smoke was revealed, with the surprising results.
CADR stands for Clean Air Delivery Rate and measures how much air can be filtered within a certain time period. Dust and smoke are measured from 10 to 400 CADR, and pollen from 25 to 450 CADR. The higher the number is, the more efficient and quick the air purifier is at removing pollutants.
It was revealed that this unit is most efficient at removing pollen with a CADR of 76. For dust, the CADR is 66, while the smoke CADR was rated at 50. Ultimately this means that this unit is the best fit for someone with allergies who wants a personal air purifier that removes different sort of particles from the air. It is not as ideal for those that want to remove the smell of cigars or tobacco smoke. It can do the job, but because of its CADR it will take longer than the removal of pollen or dust. How efficiently it removes dust and smoke might also depend on how fast you set the fan speed.
Power consumption
The Germguardian AC4100 is a good choice of air purifier for individuals with allergies or severe illnesses that need to have a unit running day and night continuously. This is because it has Energy Star rating, which means that it meets the strict guidelines established by the U.S. EPA to be defined as energy-efficient. This means that even if you run it 24 hours a day, it is likely to save you as much money on your energy bill as is possible.
Portability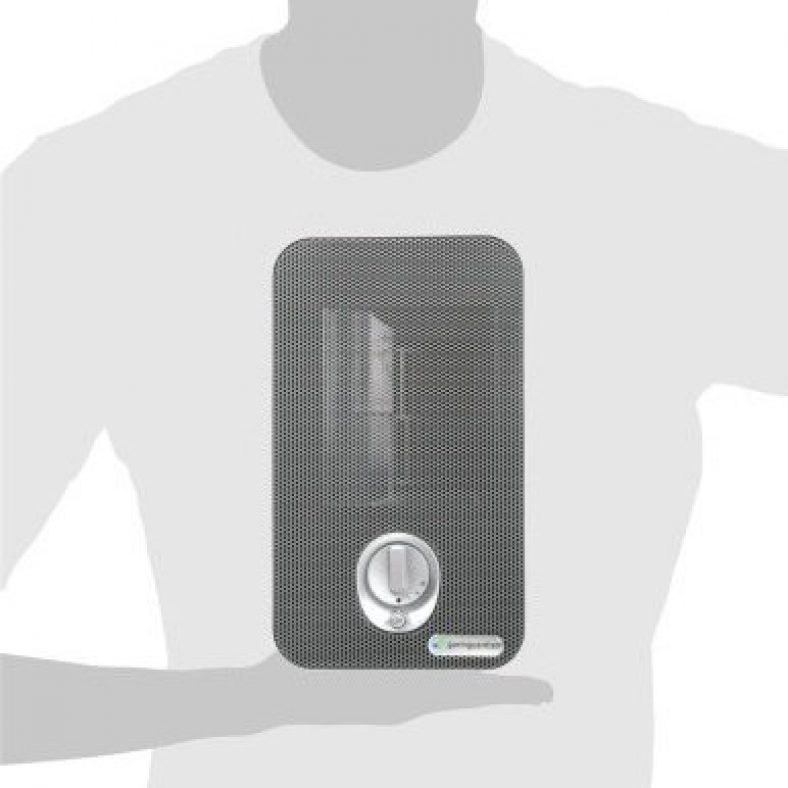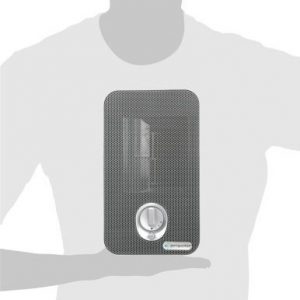 The Germguardian AC4100 is a desktop unit that is very easy to move around from room to room, even though it has no handles. It weighs just a little more than five pounds. The dimensions of this air purifier are 7.5 x 6.43 x 10.95 inches. It is roughly the size and shape of a small stereo speaker and has a very innocuous design that includes a black plastic casing and a front grey metal screen that fits in well with most décors. It is also quite easy to set this smaller air purifier on a bedside table, desk or bathroom shelf.
Where to use it
The compact dimensions of this air purifier make it ideal to use in a bedroom, nursery, bathroom, kitchen or office. It is powerful enough to clean the air of small and mid-sized rooms like a guest bedroom or living room. However, it was designed to clean smaller, more personal spaces as its optimum range is 78 square feet.
Price
The Germguardian AC4100 has a very appealing price tag varying from $50 to $60 U.S. depending on the vendor that you order it from. This is quite reasonable considering what a powerful unit it is and that it is manufactured by Germguardian, which creates air purification technology for surgical facilities, hospitals, and NASA.
You also save money when you buy this unit because the filter lasts for an astounding 6-8 months, which is just not the case with other similar small square-shaped air purifiers, which are often more expensive and also require the filters to be changed every three months. You are getting three cleaning levels in one unit including a charcoal filter, a true HEPA filter like the ones used in hospitals and a UV-C light, which also helps to sanitize the air thoroughly. To find out the best price for a Germguardian GermGuardian 4100 in your area, check it out here.
Key features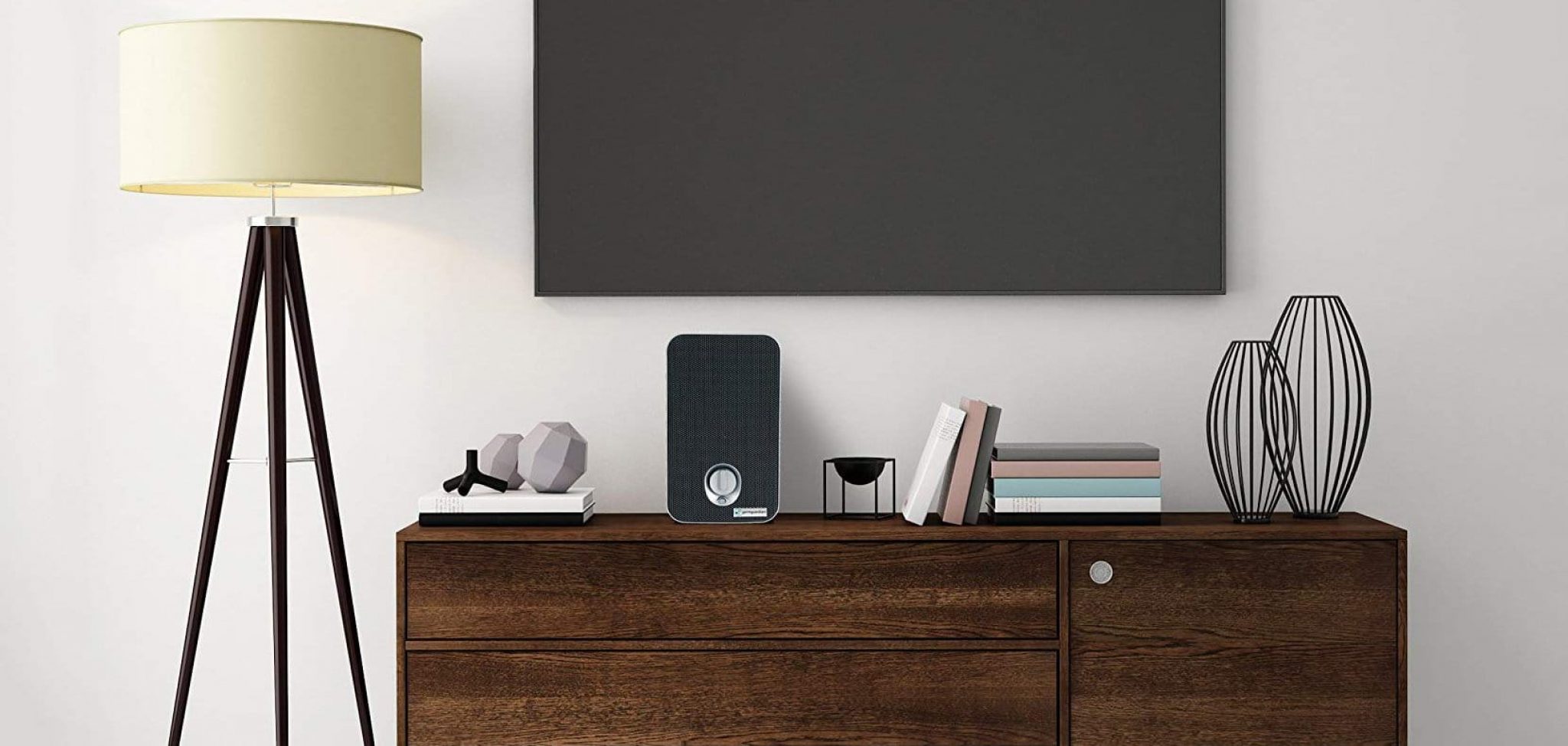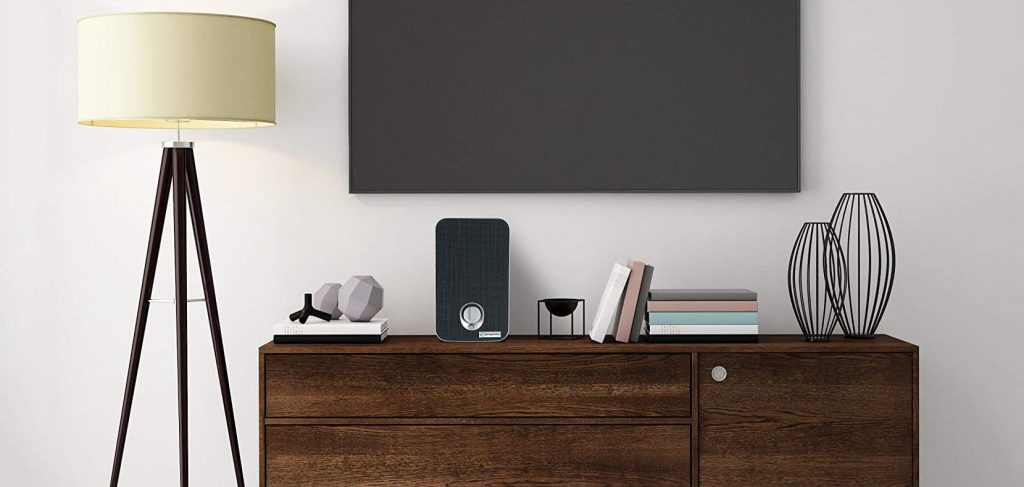 In this Germguardian AC4100 3-in-1 air purifier review, we've already discussed all of its unique features including the UV-C light, the carbon, and true HEPA filters, it's dimensions, coverage area, and impressive CADR for removing pollen. However, if you are in more of a rush to purchase an air purifier right away, then here is a short list of all the main perks and benefits that come with owning this exceptional air purifier:

Simple twist dial for choosing one of three fan speeds;
Dial with months of the year indicating filter age;
78 sq. ft. coverage area for use in small rooms;
A true HEPA filter to remove 99.97% of the particulates that are 0.3 microns or larger;
Carbon pre-filter for removing pollen, dust, and odors;
A UV-C light that can be turned on to clean the air of viruses;
Quiet operation, when set on the lowest fan speed;
Continual, energy-efficient operation;
Efficient at removing pollen;
Energy Star rated;
1-year limited warranty;
Inexpensive at around $50;
Lightweight and portable at only 5 lbs.
PROS
CONS

Compact
UV-C light sterilizes the air
Choice of three fan speeds
Filter lasts more than 6 months saving you money on filter replacement
Effective at removing pollen
Saves energy

Only effective in smaller spaces
Doesn't remove smoke that quickly
No air quality monitoring
Conclusion
The features discussed in this Germguardian AC4100 review should give you a good idea of what to expect from this powerful unit for people who have allergies. It has a smaller coverage area and is very quiet when set on a lower speed, so you can use it at night while sleeping. Otherwise, the medium and high speeds on the unit create a bit of white noise, which is still not that audible. The Germguardian AC4100 also comes with some great features including a compact and lightweight design allowing you to move it from place to place, a filter replacement indicator light and a combination of carbon and HEPA filters at the front of the unit to trap larger particles. Ultraviolet light technology inside of the unit can be activated with a button beneath the dial to thoroughly sanitize the air, optimizing the breathing environment for those with smoke, pollen or dust allergies, compromised immune systems, COPD or other respiratory disorders. Together, all these perks make the Germguardian AC4100 a perfect air purifier for personal use at nighttime or during the flu season.