This comprehensive Honeywell HPA100 Review was created to help customers understand why it is called The Doctor's Choice and why it is so beneficial for people who suffer from allergies. For starters, its main component is a certified HEPA filter, which is the same kind of filter used in medical facilities to keep the air clean of dust and germs. Despite its compact size, it does a spectacular job of circulating the air five times an hour to reduce exposure to pollen, dust or other airborne particles.
This Honeywell HPA100 true HEPA allergen remover review also includes a detailed chart of the unit's specifications below, so you can see everything that this wonderful air purifier offers at a glance. It boasts the Energy Star certification and state-of-the-art design that is to be expected from a progressive company like Honeywell, which also manufactures aeronautical equipment, by the way. Hopefully, the information in the Honeywell HPA100 review chart below can help you determine if it is the right appliance for you.
Specifications
Filters type
activated carbon pre-filter; true HEPA
Coverage area
up to 155 sq. ft.
Energy Star certification
yes
Dimensions
13.54 x 8.9 x 13.94 inches
Honeywell HPA100 Review
Before you buy a Honeywell air purifier, it is important to note each specific feature that comes with the appliance. Important features to note include the type of filter system it uses, its coverage area and warranty type. Our Honeywell HPA100 true HEPA allergen remover review is extensive and breaks down each, describing them in detail to show you exactly why it is called "The Doctor's Choice" for those with allergies in particular.
Overall performance
Overall performance is the first feature examined in this review. Evaluating the overall performance of an air purifier is dependent on three factors: the percentage of airborne particles removed, the minimum size of the particles trapped and whether or not it effectively eliminates odors.
When it comes to efficiency, this air purifier is spectacular, with the capacity to remove up to 99.97% of airborne particles. Furthermore, it can remove the tiniest particles of floating pollen, dust, pet dander or mold spores at the rate of five times an hour.
The smallest particle it can eliminate is 0.3 microns in size. To give you some perspective on how miniscule this is, a human red blood cell is 5 microns across. The fact that it removes such tiny particles, means that it is also effective at getting rid of odors caused by pets, tobacco smoke and cooking. This makes this compact, yet powerful appliance one of the best of the less expensive household Honeywell air purifiers on the market.
How it cleans the air
This Honeywell HPA100 cleans the air through a carbon pre-filter and two HEPA filters, pulling air through the intake vent and the filters before shooting the cleansed air out into the room again. A backlit digital panel allows you to set the unit to Turbo, General Clean, Allergen and Germ. The Allergen setting helps to clean larger particles such as mold spores and pollen from the air. The Germ setting assists with removing microscopic viruses and bacteria. The General Air setting is excellent for removing odors from cooking, pets and tobacco smoke and the super powerful Turbo setting quickly removes stenches created by pet accidents, burnt food or cigar smoke.
Filters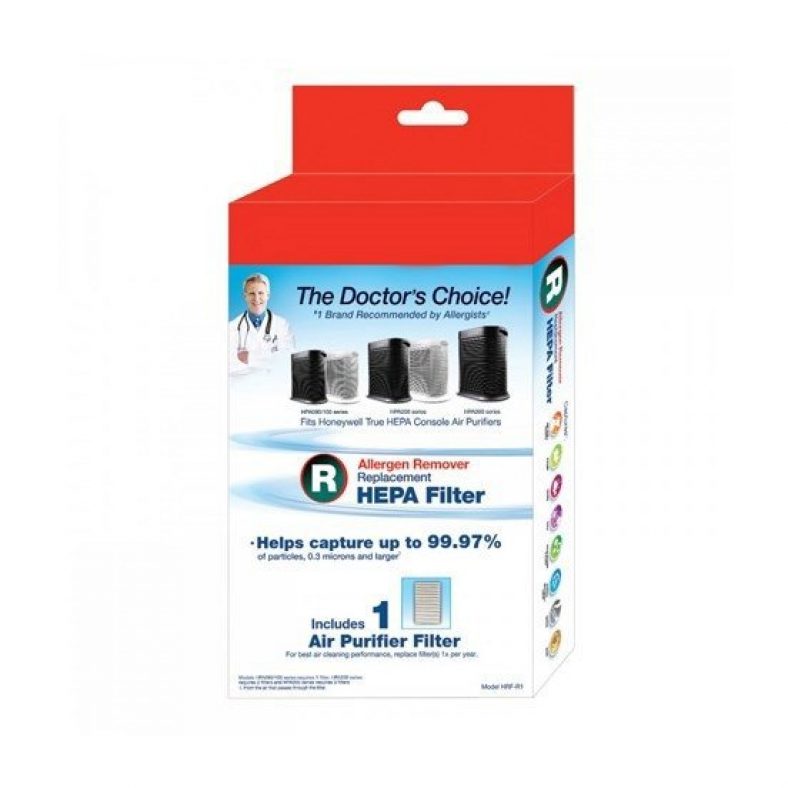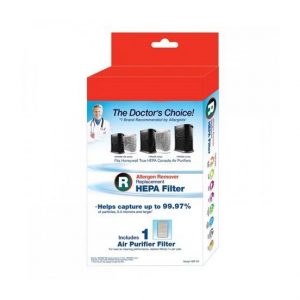 The Honeywell HPA100 air purifier cleans the air in two stages. Stage 1 cycles the air through a pre-filter, to catch larger particles before sending it through a true HEPA filter with double layers. During Stage 2, tiny and even microscopic particles are trapped and, as a result, fresh, clean air is pushed back into the room through an outtake vent.
The beauty of this system is that the filters are so efficient, that the air is completely cleansed during the first few cycles, reducing the amount of dust or allergens in the room. This efficiency also means that there is less wear and tear on the filters during subsequent cycles. When the filters need to be replaced, indicator lights for both the pre-filter and the main true HEPA filter will light up.
CADR
While collecting information for this Honeywell HPA100 true HEPA allergen remover review, we paid close attention to the appliance's CADR rating. CADR is an acronym for Clean Air Delivery Rate and is a measure of the volume of filtered air that an air purifier can produce per minute. The three different ratings are meant to measure the effectiveness of the filters to reduce levels of smoke, dust, and pollen.
The CADR measures these three different air pollutants, smoke, dust, and pollen using three scales. Smoke is measured from 10 to 450 CADR, dust from 10 to 400 CADR and pollen from 25 to 450 CDR. The measurement unit is cubic feet per minute, so the higher the number of the CADR, the better.
So what is your takeaway about the Honeywell HPA 100's CADR? It removes smoke at a rate of 100, pollen at a rate of 100 and dust at a rate of 106. This means that 100 cubic feet of air is being cleaned a minute in your room, allowing for a more hygienic, pure breathing environment.
Modes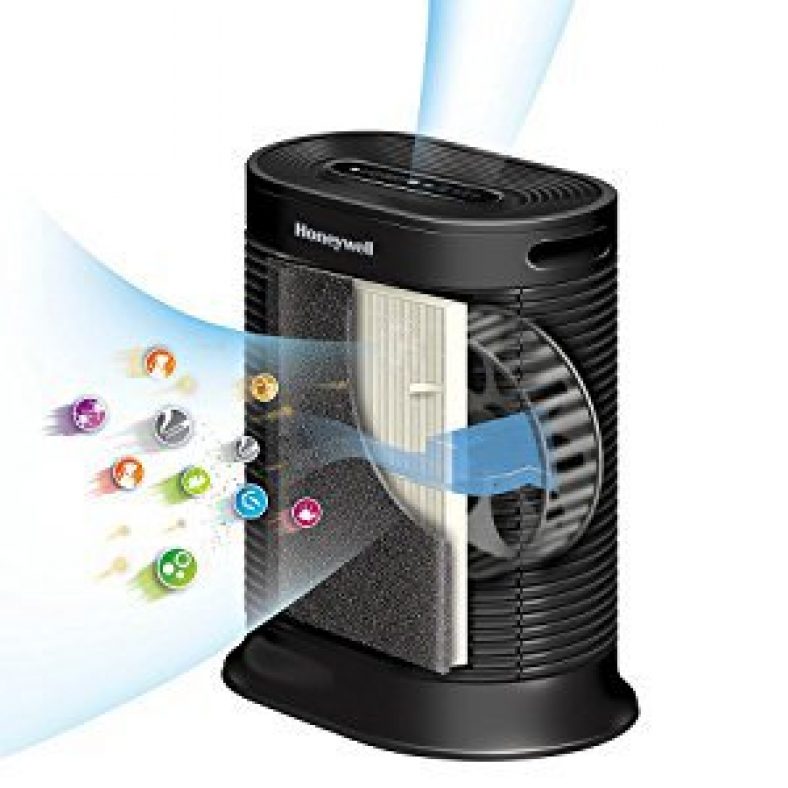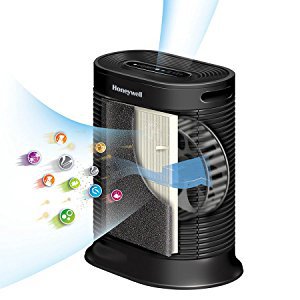 The Mode buttons displayed on the attractive digital pad on top of the unit have four modes, each of which serves a unique purpose. Technically these "modes", such as General Cleaning, Allergan, Germ or Turbo, refer to the speed of the fan driving air in and out of the unit, except in this case, the name of the mode describes its capability.
The General Clean setting is fine for regular air maintenance, allowing you to set and forget it while you go about your day breathing clean, refreshed air. The Germ mode is best for cold and flu season, or if you have someone with a compromised immune system in your home. The Allergen mode sifts out pollen and spores and is ideal to use during the late summer months when allergies peak. A Turbo setting removes foul odors in a jiffy, such as the smell of a litter box, burnt food or cigar smoke.
The digital panel on the top of the unit is backlit, so it is easy for you to see all of the settings. However, to prevent the panel from lighting up your room at night, there is a dimmer switch that lowers it to a low, subtle glow.
Timer
You can leave the Honeywell HPA100 air purifier running day and night, but if you do want to turn it off when you are not at home or at night then you can set the backlit timer to run for an either two, four or eight hours. When time is up, the air purifier automatically shuts off.
Power consumption
The fact that people with acute allergies like to run an air purifier continuously inspired Honeywell to create an energy-efficient unit. The HPA100 air purifier boasts the coveted Energy Star Rating, which means it meets the strident guidelines that have been set by the U.S. EPA (the United States Environmental Protection Agency). This means that even if you run it day and night, it is likely to save you as much money as is possible on your energy bill.
Portability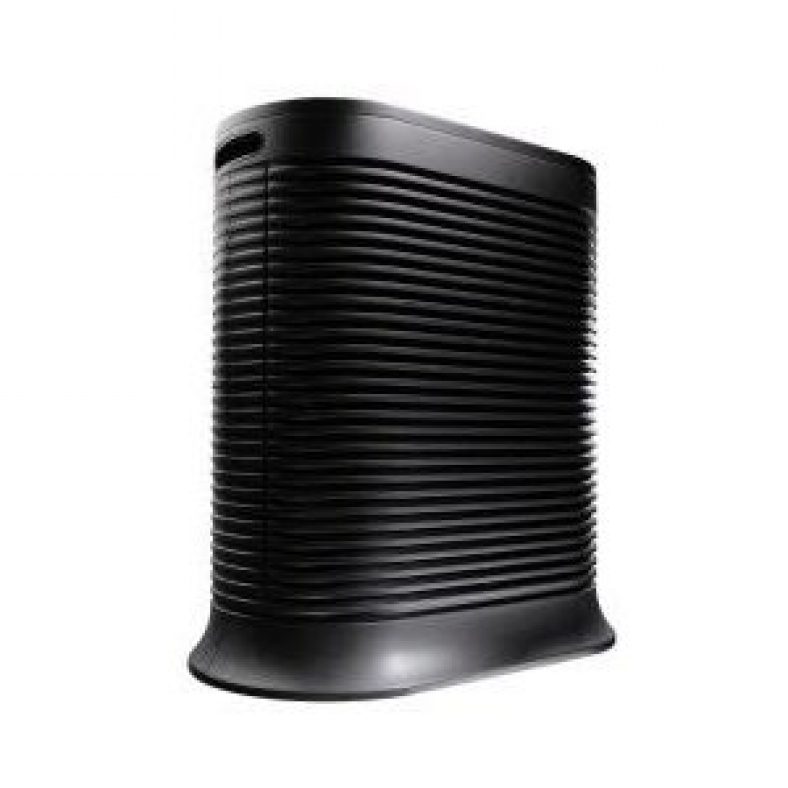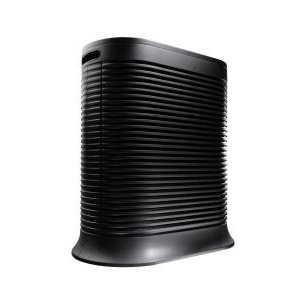 The HPA100 model is compact and easy to move from room to room. The dimensions of this air purifier are 13.54 x 8.9 x 13.94 inches. It is also lightweight, weighing only 7.74 pounds. It is roughly the size and shape of a large portable radio, and has an attractive, curvaceous design that blends in well with the décor of any room.
Where to use it
The compact dimensions of this smaller air purifier make it ideal to use in a bedroom, nursery, bathroom, kitchen or office. It is powerful enough to clean the air of smaller mid-sized rooms like a master bedroom or living room but it was built to clean smaller, more personal space as it's optimum range is 155 square feet.
Place this humidifier in a sick room to help someone with a lowered immune system fight off germs or to contagious diseases like the flu. It runs quietly and has a dimmer option on its panel, so it won't disturb your sleep. It is also a great air cleaner to keep near a windowsill that tends to get quite dusty due to air pollution or tree pollen traveling inside. It also keeps a basement bathroom or crawlspace from smelling moldy.
Price
The price varies from area to area, but for the most part, the air purifier sells for between $200 and $260. This may seem pricey for its small size, but it is manufactured by Honeywell, which is known worldwide for creating durable, long-lasting air sanitizers used in medical facilities and also by NASA. You are also getting a real bang for your buck as the unit has many bells and whistles, such as backlit mode selections, an auto shut-off mechanism, and a timer. You also can't beat the CADR on this unit that uses both a carbon filter and a double HEPA filter to remove all smoke, pollen, and germs from the air. To find out the best price in your area, check it out here.
Key features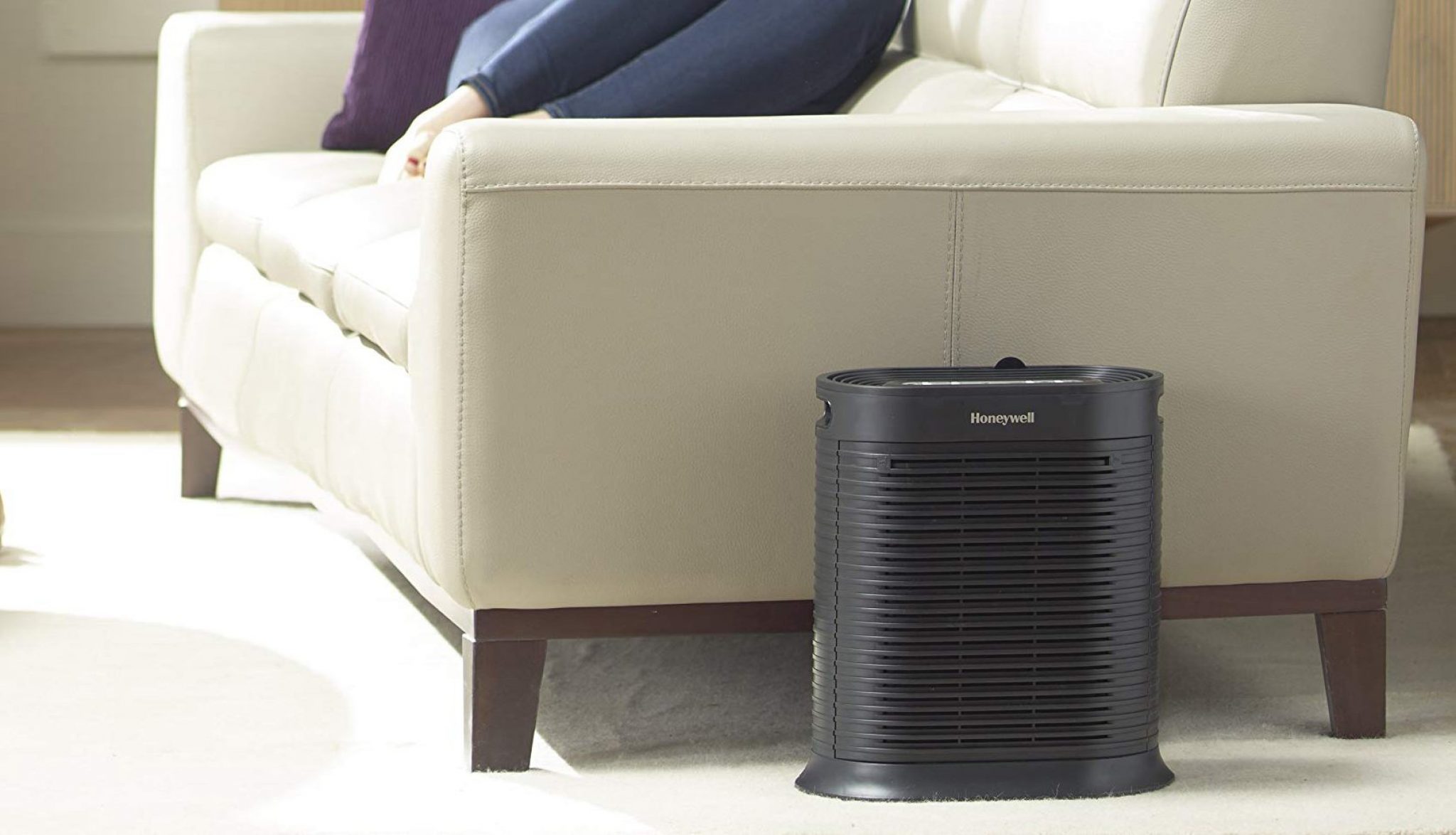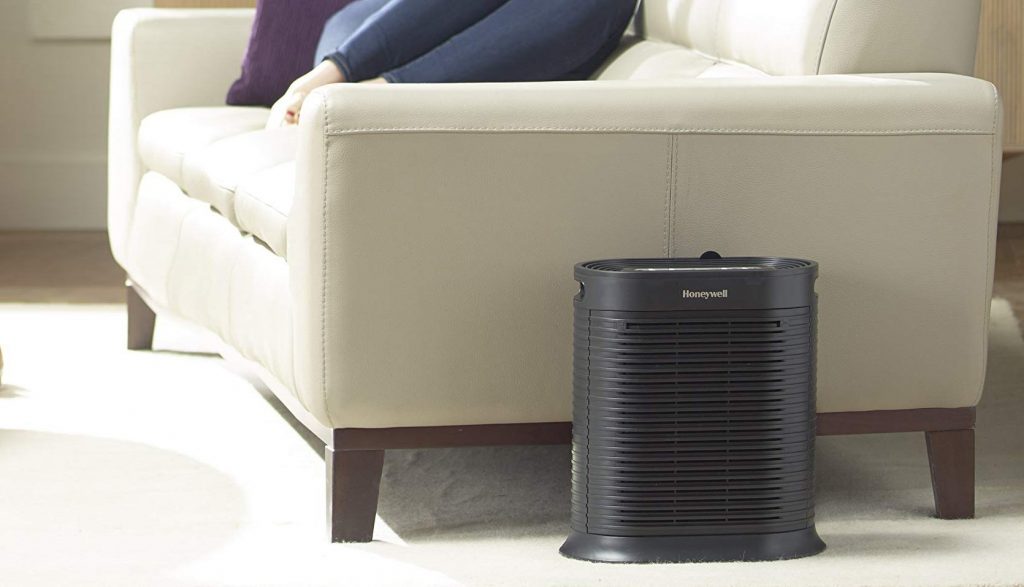 In this Honeywell HPA100 true HEPA allergen remover review, we've already discussed the CADR, the carbon and HEPA filters, the backlit panel display with its different modes, dimensions, coverage area, and CADR, but if you are in a hurry here is the features-at-a-glance that this air purifier offers including:

Easy tap controls
Auto shut-off with 2, 4, and 8-hour timer
155 sq. ft. coverage area for use in small rooms
2 true HEPA filters to remove 99.97% of the particulates that are 0.3 microns or larger
Carbon pre-filter for removing VOC, odors, and germs
Digital display with Turbo, General clean, Allergen, Germ modes
Quiet operation, even when set on high to turbo mode
Replacement filter indicator light
Adjustable LED lighting, including high, low, and off
Energy Star rated
5-year limited warranty
PROS
CONS

Compact, light and stylish
Whisper-quiet operation
Indicator light signals filter change
Choice of four modes
Turbo mode for quick air cleaning

Only effective in smaller spaces
Filters need replacement
No air quality monitoring
Wrap-up
The features discussed in this Honeywell HPA100 review should give you a good idea of what to expect from this powerful doctor recommended unit for people who have allergies. It has a small coverage area and is ultra-quiet, so it is perfect for smaller spaces such as bedrooms, nurseries, and offices. The Honeywell HPA100 also comes with some excellent features including a backlit display panel that shuts off, a dimmer, a filter replacement indicator light and a sleek, curvaceous design that makes it easy to move from room to room. Together, all these perks make this the perfect Honeywell air purifier for personal use at nighttime or when flu or allergies strike.