In recent years, air purifiers have increased rapidly in popularity, and that has led to new manufacturers constantly appearing in this industry. While that's a good news in the sense that buyers will have many options to choose from, it's equally a bad news as it means you'll have a hard time choosing the right model and brand for your needs. However, in the face of the stern competition, the one company that has managed to stay atop of it is Honeywell.
With high-quality air purifiers such as the Honeywell HPA200 in their repertoire of inventions, Honeywell is one of the first brands you need to look at when in need of a decent device. The HPA200 is a portable, but smart and intuitive air purifier, and offers a lot of value for your money. If you have allergy and are in search of an effective allergen remover, this machine is perfect for your purification needs. Continue reading this Honeywell HPA200 full review in case you want to know all the perks this powerful air purifier has to offer.
This product's also been included into these rankings:
Specifications
Filters type
pre-filter; 2 true HEPA
Coverage area
up to 310 sq. ft.
Energy Star certification
yes
Dimensions
17.72 x 10.05 x 18.86 inches
Honeywell HPA200 Review
There are currently plenty of options on the market when it comes to air purifiers, with the Honeywell HPA200 True Allergen Remover being one of the most popular ones. Like we mentioned earlier, Honeywell has been in the industry for decades and still excels in producing some of the best air purifiers on the market. This allergen remover from Honeywell is perfect for people who are searching of a device capable of purifying a medium-sized or large room.
Overall performance
A high-quality air purifier has to be exceptional on all fronts, and that can be said of the Honeywell HPA200. According to the manufacturer, the machine is capable of eliminating contaminants that are as little as 0.3 microns. Subsequently, it is also ideal for capturing larger-sized particles. This air purifier from Honeywell will clean your room from pollen, dust, tobacco smoke, cooking smoke, fireplace smoke, pet dander, and mold spores to mention a few.
The Honeywell HPA200 True HEPA Allergen Remover is capable of purifying a room that is as large as 310 square feet. And according to the manufacturer, it is capable of giving you about five air exchanges every hour. As far as effectiveness is concerned, this compact purifier boasts a CADR of 200 for smoke, 180 for pollen, and 190 for dust.
Odors from your everyday household activities are capable of ruining the air of your bedrooms or living room. Your kitchen smell can get to your bedroom easily and damage the environment there. This air purifier utilizes an activated carbon filter to get rid of bad odor before it takes over your rooms.
How it cleans the air
In a simple but effective way, this air purifier from Honeywell does a really great job at eliminating those horrible, unwanted particles you would be inhaling otherwise.
It starts by using the internal filters to pull the air in the vent. Afterwards, the filters will purify the air by capturing the allergens, pollen, and dust in it, before releasing the purified air into the atmosphere again. The machine is even capable of circulating the air in a room that is up to 310 square feet in size up to five times per hour. With this, the air in that particular room is kept from being filled with excess particles and pollutants again, thereby making it fresh and clean throughout the day.
Filters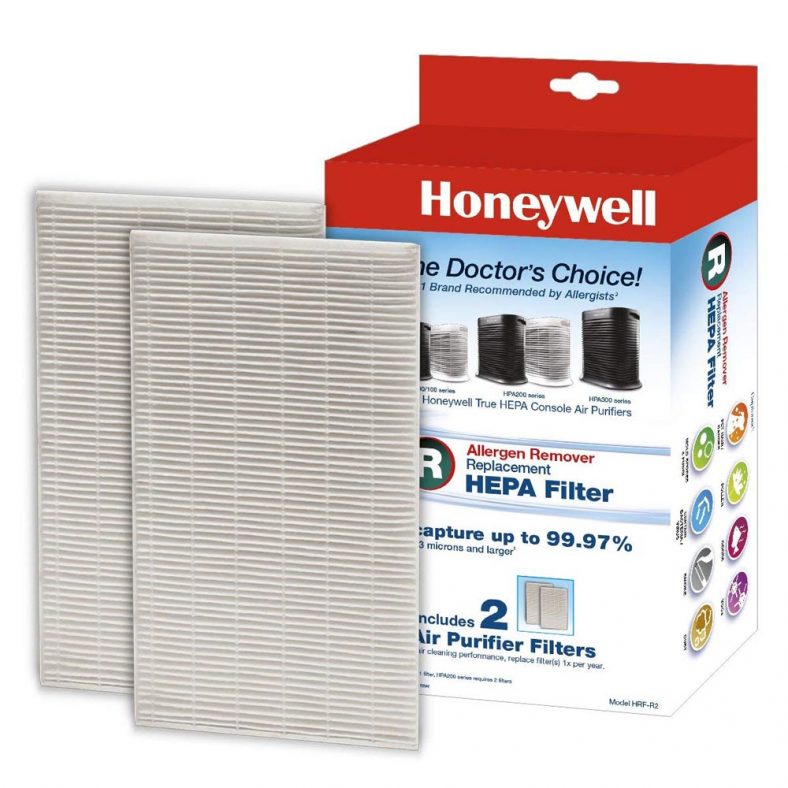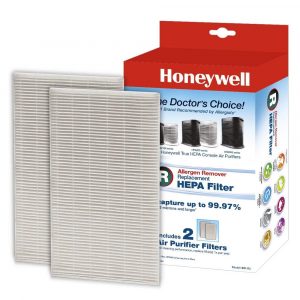 This model comes with a two-stage cleaning system, the first of which involves a pre-filter with activated carbon that helps reduce odor. The pre-filer helps to freshen up the air and capture pet fur, lint, fibers, dust, and even larger particles. The second stage involves a True HEPA filter that traps up to 99.97 percent airborne particles as large as pollen, dust, bacteria, and mold spores or as little as 0.3 microns. Also, this unit does not emit any ozone.
We recommend you to change the True HEPA filter yearly, and the pre-filter that reduces odor should be replaced every three months. Of course, this depends on the operating conditions in which this unit is subjected to. Based on the operating conditions of the machine, you may have to change the filters less or more frequently. Also, we must not forget to mention that the True HEPA filter and pre-filter aren't machine-washable. While the True HEPA replacement filter is priced around $40, the carbon activated pre-filter costs about $8.
CADR
The efficiency of an air purifier when getting rid of particles is determined by the CADR, so it is one of the first things you need to think about and look for when buying a particular air purifier. Also known as the Clean Air Delivery Rate, the CADR is a number that represents the effectiveness of the filters of an air purifier when it comes to eliminating dust, pollen, pet dander, cigarette smoke, and allergens. Generally, the higher the CADR of an air purifier, the better it is, since the CADR points to the amount of air treated by the filters.
While that number might seem like it's not a big deal to you, it actually provides you with a better idea about the efficiency and effectiveness of a certain model. Basically, all air purifiers are using similar technologies, so the Clean Air Delivery Rate helps you to determine which models perform best, thereby preventing you from purchasing an ineffective one. After all, an air purifier is useless if it doesn't purify the air quickly and thoroughly.
The numbers are denoted in cubic feet per minute, therefore if the dust rating of an air purifier is 100, then the air purifier will be capable of filtering out the dust at 100 cubic feet per minute. Like we mentioned before, the higher this rating is, the speedier its operation will be. When it comes to effectiveness, this portable air purifier has a CADR (Clean Air Delivery Rate) of 200 for smoke, 190 for dust, and 180 for pollen. These numbers are fairly decent for a device of this size and coverage area.
Modes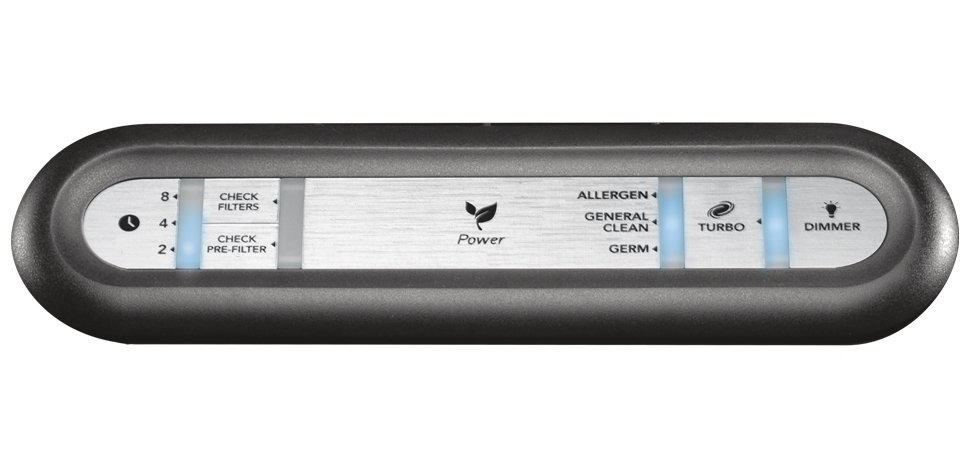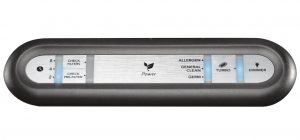 The general mode of the unit is used for overall air cleaning and it has no particular requirements. It is basically the setting for your daily usage of the machine. On the other hand, the turbo function boosts the odor reduction and purifying power, and is the ideal setting to use to get rid of kicked-up particles after a dusting or vacuum session. Some people like turning on this function for an hour or thereabout before going to bed to make sure their room is super fresh and clean.
The germ mode helps to adjust the purifying performance to remove germs like viruses and bacteria. This mode is usually used during annual flu season. The Allergen function is usually used when extra allergen-trapping power is needed. Pet dander, house dust, and pollen are all triggers for people suffering from allergy. Use this mode if you have pets that are always shedding or during heavy allergy seasons.
Timer
While nonstop use of the HPA300 will make sure the air in your room is always clean, there are actually times you would want it to stop running. This appliance also comes with an extremely useful timer. Based on your current needs and requirements, there are three timing options available on this machine. You can select the two, four, or eight-hour setting, and the machine will turn off automatically as soon as the time selected has run out. With this feature, you can leave the device running even when you unexpectedly leave the house or you're sleeping.
Power consumption
The energy consumption of an air purifier is always one of buyers' utmost concerns since it has to be run continuously for a long time, which makes the energy efficiency an important consideration. The Honeywell HPA200's power consumption is about 84 watts, which is actually lower when compared to some of the most popular air purifiers.
With the 84 watts, it would cost you about $30 yearly if you use the HPA200 eight hours daily. Actually, the cost is fairly affordable as the HPA200 even has an Energy Star rating. It means the machine won't swell up your bill excessively, though you need to keep in mind that the higher the setting you use, the more energy the machine is likely to consume.
Design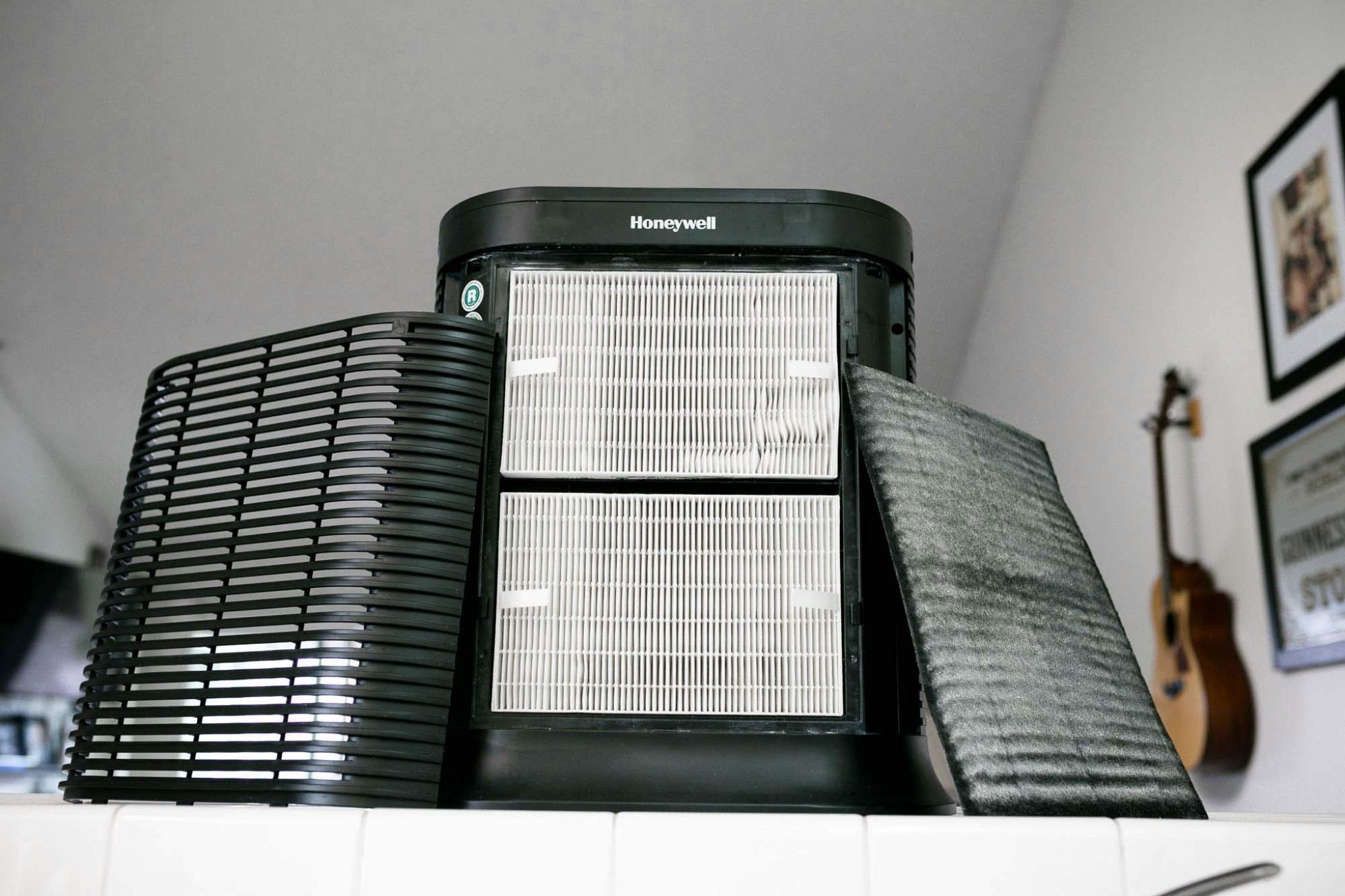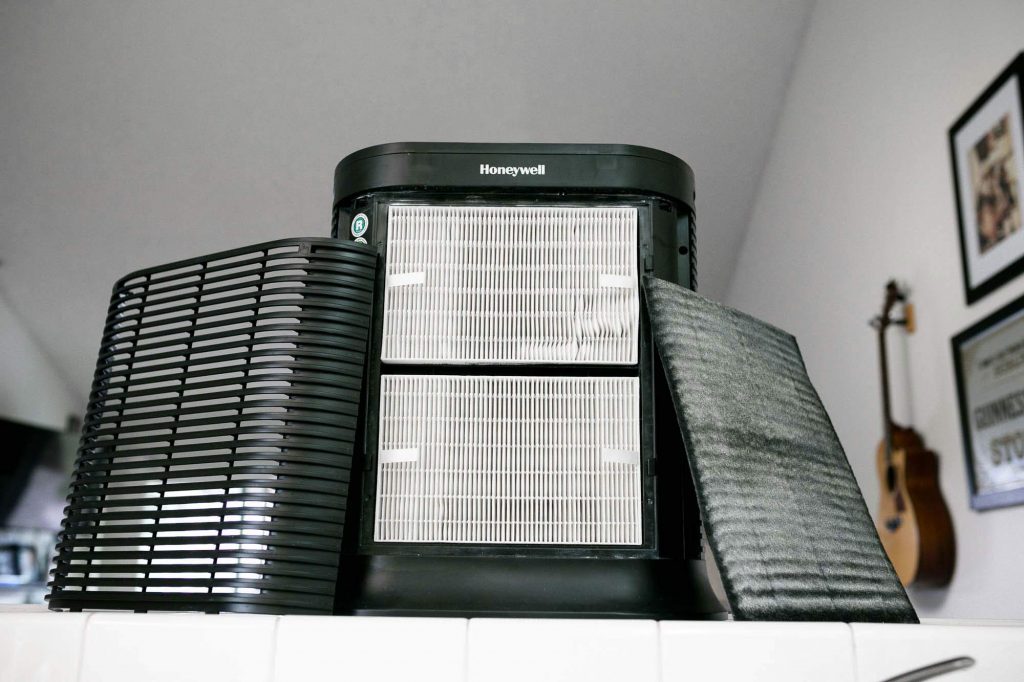 Apart from the high performance it offers, the Honeywell HPA200 is also an exceptional machine when it comes to the design. Honeywell altered its earlier boxlike housing, and currently manufactures a sleek, rounded unit that appears extremely beautiful in a room. With the stylish design, this machine is a great choice for people who want to breathe cleaner air without compromising on the sophisticated room interior.
Portability
Measuring 19.4 x 11.5 x 20.3 inches, the HPA 200 is a fairly compact machine. One thing that is, however, remarkable is that despite the compact built of this machine from Honeywell, it still manages to deliver a great performance. Apart from being compact, the air purifier is also lightweight, measuring only 20 pounds in weight. If you intend to move your air purifier from one room to another on a regular basis, then you can't look further than this model.
Where to use it
With a coverage area of about 310 square feet, the Honeywell HPA200 isn't exactly designed for small spaces like kitchen and bathroom. Instead, it's made for medium to large rooms such as offices, living rooms, and larger bedrooms, provided you won't be disturbed by the noise it produces. If you are planning to buy an air purifier for your kitchen or bathroom, we don't recommend the Honeywell HPA200 for you.
The owner's manual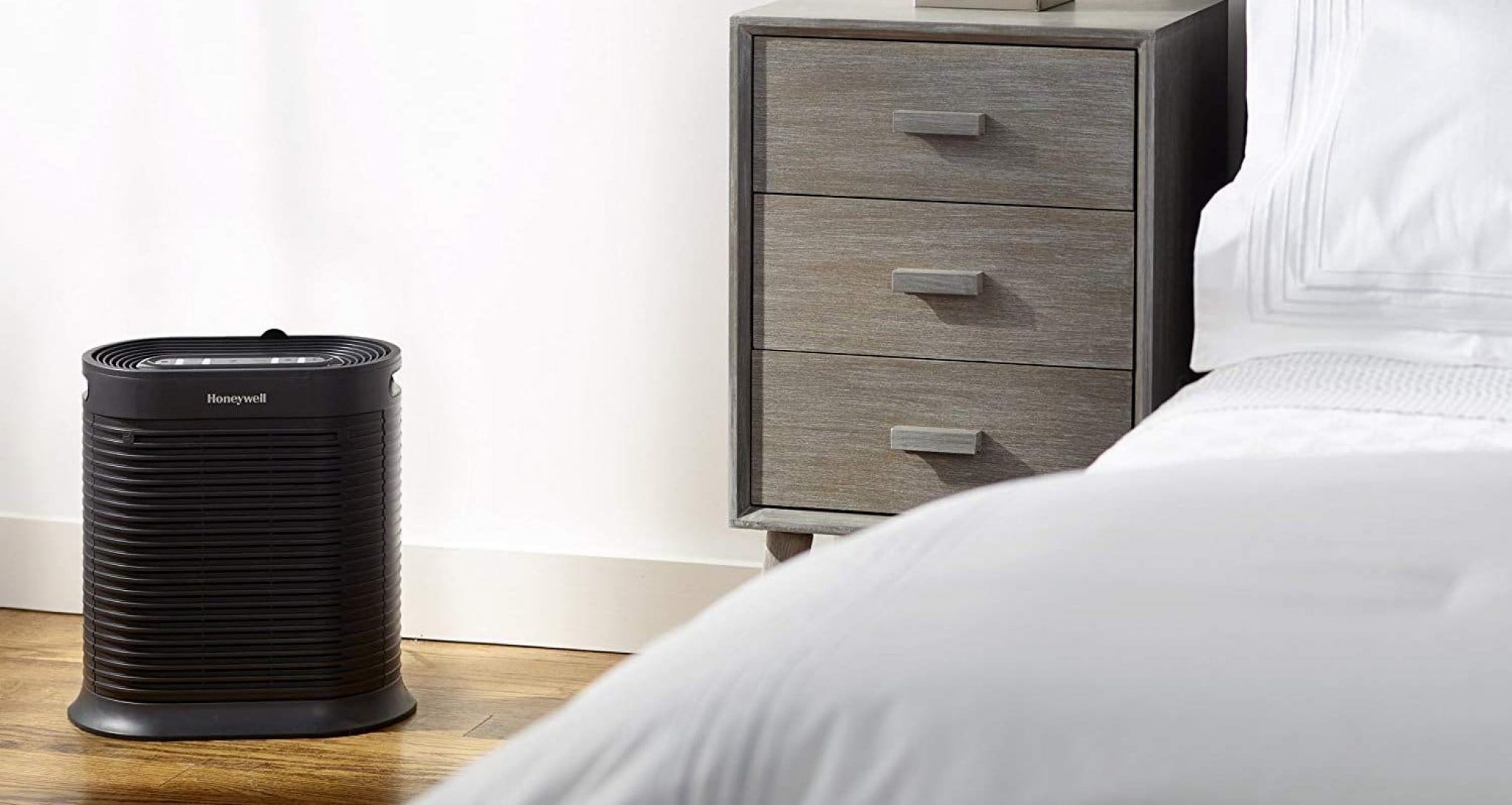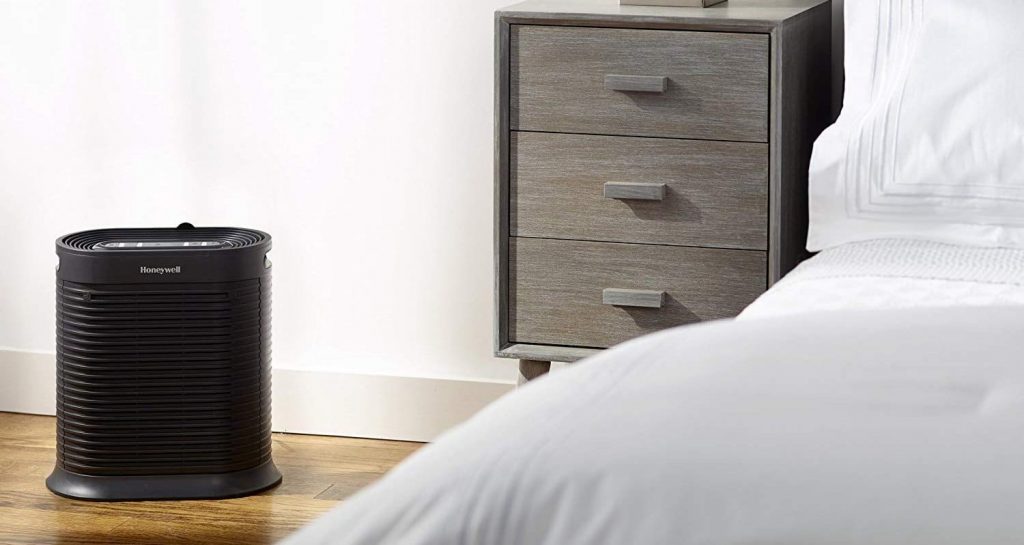 While the user's manual is around eight pages for the English version, it is very clear and straightforward. The manual is concise and well put together, and the most vital basic details you require to use and maintain the machine are all included. In addition, the manual makes it very easy to locate the customer service phone number whenever it is needed.
Price
Considering its present market cost, the Honeywell HPA 200 True Allergen Remover is capable of being an excellent investment, thanks the series of features it boasts. While the market actually has many different high-end options with a number of fancy characteristics, this offering from Honeywell is simply outstanding in the sense that it offers the same features as more expensive models despite being sold for the fraction of the price. Be sure to check the latest price here.
Key features
Having reviewed each feature of the HPA200, we believe you should know everything there is to know about this unit already. However, if you can't read through all the detailed review, here is a summary of all the key features the purifier is equipped with;

Two filters – The carbon pre-filter and true HEPA filter do a superb job at making your home air cleaner and fresher.
Light indicator – The Honeywell HPA200 Air Purifier comes with an indicator that enables you to know which setting you're using. If you don't like the light indicator, however, you can turn it off.
Filter-check – Both the activated carbon pre-filter and the True HEPA filter come with a filter-check window. The filter light will turn on when it's time to replace the filters, thereby allowing your machine to be at peak condition at all times.
Dimmer option – The dimmer option enables you to adjust the control panel's LED brightness. Apart from being able to dim the lights, you can shut them off as well if you aren't comfortable with them.
Five-year limited warranty – The HPA200 is also backed by a five-year warranty, which gives you some confidence on your purchase.
Filters air five times per hour – This purifier filters and circulates air five times every hour in the stated room size.
PROS
CONS

AHAM certification guarantees its effectiveness
Compact and lightweight construction
Fresh and clear air is released from the top of the unit, rather than the front like its competitors
Has an automatic shut-off timer
Great design
Low energy consumption

Filter replacements are costly
Might be bulky for smaller rooms
Doesn't come with a remote control
Wrap-up
In general, the Honeywell HPA200 True Allergen Remover is an effective, fairly compact air purifier that is essential if you want your home air to be free of dust, smoke, pollen, and more. The device comes with many benefits geared specifically towards people suffering from allergies and asthma. Also, the Honeywell HPA200 True Allergen Remover is perfect for pet owners as it is capable of eliminating pet odors and dander.\r\nApart from that, the unit also has a large coverage area, which makes it suitable for medium-sized to large rooms. In addition, the air purifier is equipped with series of excellent extras such as a dimmer, an indicator light that turns on when it's time to replace the filters, multiple cleaning levels, and Energy Star certification, meaning it doesn't consume too much energy. All these features combined make this model one of the best options for anyone looking for a high-performing purifier.