Honeywell is known for manufacturing powerful and long-lasting air purifiers, and the HONEYWELL HPA600B is one of them. It's one of the latest models and comes after the Honeywell HPA300. 
The HPA 300 already proved to be a worthwhile buy, and we decided to review the HPA 600B to determine whether it was a worthy replacement. Does this air purifier match up to its expectations? Read our complete review below to find out!
Specifications
Filter type
Pre-filter, HEPA, activated carbon
Automatic shut off
2, 4, and 8 hours
Dimensions
16.73 x 9.45 x 24.25 in
Review
If you're looking for an air purifier that can efficiently clean large rooms and at low costs, then you should consider the Honeywell HPA600B. This air purifier is one of the high-end models from the Honeywell brand and comes with upgraded innovative features that enhance user experience. We had high expectations for this air purifier, and it didn't disappoint. Here's our complete buying guide.   
Overall performance
The Honeywell HPA600B is worth every dollar you spend on it. It comes with an upgraded sleek design and has a large square feet coverage. This makes it possible to use it in areas such as large bedrooms and living rooms. It also has a continuous air quality monitoring feature that enhances its purification capabilities. Overall, even though it's a bit on the expensive side, the HPA600B has high levels of purification and works exceptionally well. 
Construction
Let's look at how well your air purifier will do at a long pace
Filter types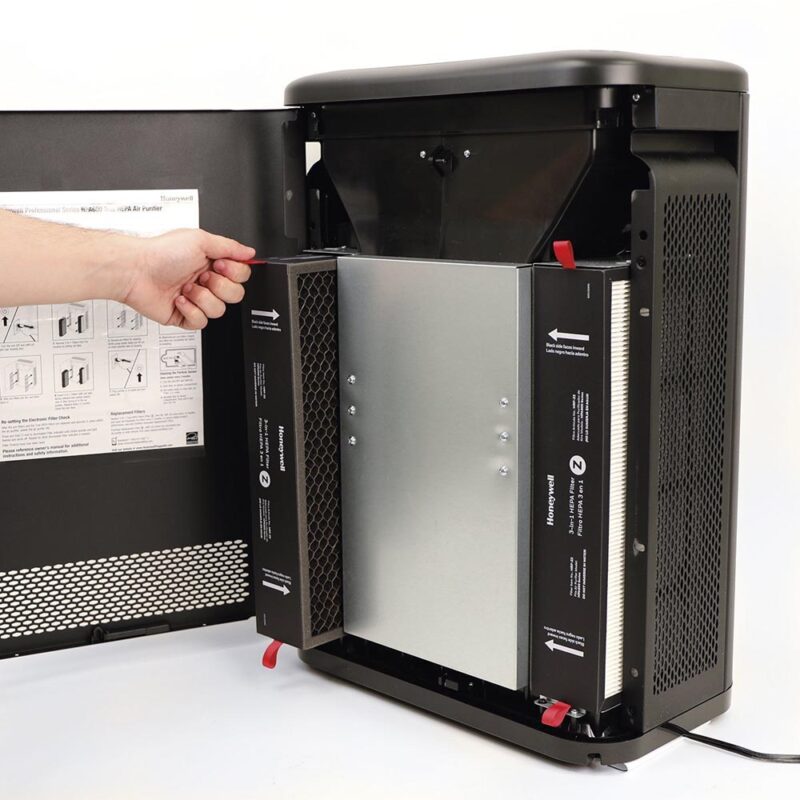 The Honeywell HPA600B air purifier comes with 3 types of air filters:
Pre-filter: unlike other Honeywell pre-filters, this one only requires regular cleaning for maintenance. You can either wash or vacuum it. 
Activated Carbon filter: this filter absorbs odors from smoke, VOCs, and chemicals. It is separate from the pre-filter, which means that you can give it individualized attention and clean it properly. This also increases the life span of the pre-filter. 
True HEPA filter: according to the

US Environmental Protection Agency

Trusted Source

What is a HEPA filter? | US EPA

HEPA is a type of pleated mechanical air filter. It is an acronym for high-efficiency particulate air filter, as officially defined by the U.S. Dept. of Energy.

www.epa.gov , HEPA filters are highly effective and can remove 99.9% of airborne particles that are less than 0.3 microns. This filter can capture most of the common household particles, including pollen, pet dander, bacteria, and viruses. 
Unlike other models, the True HEPA filter on the HPA600B has an antimicrobial coating that prevents bacteria and other microorganisms from sticking to it. It can also trap particles that are 0.1 microns, which is a huge upgrade. 
Dimensions and weight
Unlike other models in the Honeywell HPA line, this model only comes in black and doesn't have a white edition. It also comes in a modern design that is a huge upgrade from the classic designs that Honeywell is known for.
The HPA600B  weighs 32 lbs and measures 16.73 x 9.45 x 24.25 inches.
CADR ratings
The HPA600B has a CADR rating of 184 Dust/ 205 Pollen/210 Smoke (cfm).
While this is still a high rating, we realized that it was lower than the
Honeywell HPA300
model.  
Controls and screen
This air purifier has a touchscreen control and a visual display of the air quality in your home. Some of its other controls include;
Control panel dimmer
Filter replacement indicator
Auto-cleaning option that purifies your home based on the air quality.
Indicators


This air purifier has an auto-sensing mode that continuously monitors the air quality of your home. If it detects pollutants, it changes the cleaning mode to the required setting. 
This model has 3 main indicators;
Blue light: this shows that the VOCs and air pollutants are low, so the purifier is operating at level 2. 
Amber light: this indicator shows that the air quality is medium, and the device is operating at level 3. 
Red light: this light only comes on when the air quality is very low, and the purifier is operating at level 4. 
In most cases, if you keep the doors and windows mostly locked, you won't have to use level 4 and Turbo mode. We, however, recommend that you always keep the auto sensor on so that the air purifier can react when your home air quality changes. 
The Honeywell HPA600B air purifier also comes with an Auto-Off Time Mode that enables you to pre-set the device to shut down after 2, 4, or 8 hours. 
Warranty and durability
The Honeywell HPA600B comes with a 5-year warranty which is reassuring. Most air purifiers can last up to 5 years, but this has to be under optimal conditions. Under normal usage, some don't even last 3 years. The HPA600B model is highly durable, and this is further solidified by its sturdy metal casing. The casters on each side enhance its portability.
Performance
The main part about the air purifier nis how well it does its job and here are the features to consider
Filtration technology
For a $700 air purifier, you definitely expect a lot of innovative features, but perhaps the filtration technology is one of the most important ones. Well, the Honeywell HPA600B did not disappoint, and it comes with 5 cleaning levels and 3 filters which we will discuss below. 
Fan speeds
The Honeywell HPA600B comes with 5 fan speeds;
Level 1: This is also referred to as the sleep mode and is most suitable for night use due to its quiet operations. It also has dimmed panel lights.  
Level 2: this level is also known as the germ mode and is perfect for the cold season when the flu is prominent. It ensures the air passes through the filters slowly to get rid of small particles and germs, reducing the number of bacteria in the air.
Level 3: this is the general cleaning mode, and you should use it to eliminate dust, airborne smoke, and pet dander. 
Level 4: this level is also referred to as the allergen mode and is suitable for eliminating allergens. 
Level 5: this is the turbo mode, and you should only use it if you want to purify large amounts of air within a short time.  
Noise level

Air purifiers are not always the noisiest appliance, but if you have been around the constant buzz that purifiers make, you know how annoying it can get. Most of the time, the noise originates from the motor & fan, and if the purifier doesn't blend these two sounds together, the vibration noises become noticeable.
There are also instances where using the high fan setting constantly causes more noise. While the Honeywell HPA600B also has this setting, it gives you the liberty to tune it to the lowest setting, considerably reducing the noise. We recommend that you also clean the filters regularly to eliminate the sound made by the fan due to high amounts of dust and debris. According to CNN Trusted Source Your own clean-air act - CNN.com It's time to breathe a sigh of relief — sort of. Thanks to changes in air-quality and emissions laws over the past 30 years, the air you breathe when you head outdoors this summer is cleaner than ever. edition.cnn.com , you should change or clean the filters at least once every 3- 6 months.

Coverage area
The Honeywell HPA600B model was designed for large room coverage and can comfortably purify air within 325 sq ft. Like other Honeywell purifiers, this model has an air change per hour of 5x which is fairly impressive. This is because the fans have been designed for maximum utilization. 
Eco-mode
Air purifiers tend to consume a lot of power which is why you need to analyze the power efficiency of various models before making a purchase. The Honeywell HPA600B air purifier is ENERGY STAR qualified. This means that it is highly efficient compared to other models of similar size and is also powerful. It only consumes about 44 watts, and this is for the highest setting, which is very impressive. Compared to its predecessor, the HPA300, this model is 66.6% more efficient. 
User-friendliness
The Honeywell HPA 600B is easy to operate. The air quality cleaning feature is automatic, and the auto-off feature ensures the purifier doesn't run for longer than is necessary. 
This model also comes with sturdy casters that allow you to move it between rooms with ease. This is especially important because this device weighs 32lbs which can be difficult to move around. 
The pre-set modes make it easy for you to tune your purifier to a suitable level based on your needs, while the sleep mode reduces the noise of the device and dims the lights. 
Price Tag
This air purifier comes with a $699 price tag which is a bit on the high end. For such a price, you expect it to have not only the basic functionality but also additional upgrades. 
Some of the other additional features of the HPA600B include;
Ability to switch to night mode. This reduces the purifier's noise and dims the lights.
LED life indicator that reminds you when you should replace your filters. 
Smart features that allow you to control it using Bluetooth devices. 
It has been independently tested to make sure it can effectively remove dust, pollen, and smoke in a room. 
PROS
CONS

It is AHAM Verified
It is highly efficient and consumes low power
It has an auto-sensing feature that continually purifies your home's air quality
It comes with 3 filters
It has 5 cleaning levels for maximum efficiency
It comes with a metal casing that enhances its durability

It has a slightly lower CADR
It is costly
Conclusion
Honeywell has always been a trusted brand when it comes to manufacturing high-quality air purifiers. The Honeywell HPA600B may be pricey, but it's also very efficient, comes with a variety of innovative features, and is long-lasting. It is also portable and comes with a sleek, modern design. 
References
1.
What is a HEPA filter? | US EPA
HEPA is a type of pleated mechanical air filter. It is an acronym for high-efficiency particulate air filter, as officially defined by the U.S. Dept. of Energy.
2.
Your own clean-air act - CNN.com
It's time to breathe a sigh of relief — sort of. Thanks to changes in air-quality and emissions laws over the past 30 years, the air you breathe when you head outdoors this summer is cleaner than ever.