According to the World Health Organization (WHO), around 91% of the global population lives in areas where the air quality index is higher than the set limits. This is shocking! Air pollution is a major challenge, so it's not surprising that many households now have air purifiers. Most modern air purifiers are focusing on aesthetics more than functionality, but Medifiy has found a way to integrate the two qualities.
This brand has gained a reputation for manufacturing high-end air purifiers that are budget-friendly. We have combined this MEDIFY MA-40 review to help you decide whether this device is the right fit for your home. Some of the important elements that we have included in this buyer's guide include the overall performance, construction, and working processes. Check out our in-depth review before you make a purchase.
This product's also been included into these rankings:
Specifications
Cleaning area
1,600 sq ft/hr
Filter
Pre-filter, HEPA, activated carbon
Filter duration
3,000 hrs
Dimensions
22"H x 9.9"W x 10.9"D
Warranty
Lifetime limited
Review
Medify may be relatively new in the market, but the MEDIFY MA-40 air purifier is proof of how exceptional their products are. There's something luxurious about the air in a high-end hotel room, and this air purifier can help you achieve this type of air quality. The MEDIFY MA-40 model is not only good-looking but also highly effective. It has features that are mainly reserved for high-end air purifiers but isn't as expensive as the other models. This is why it's not surprising that the MA-40 is one of the most popular models from this brand.
Overall performance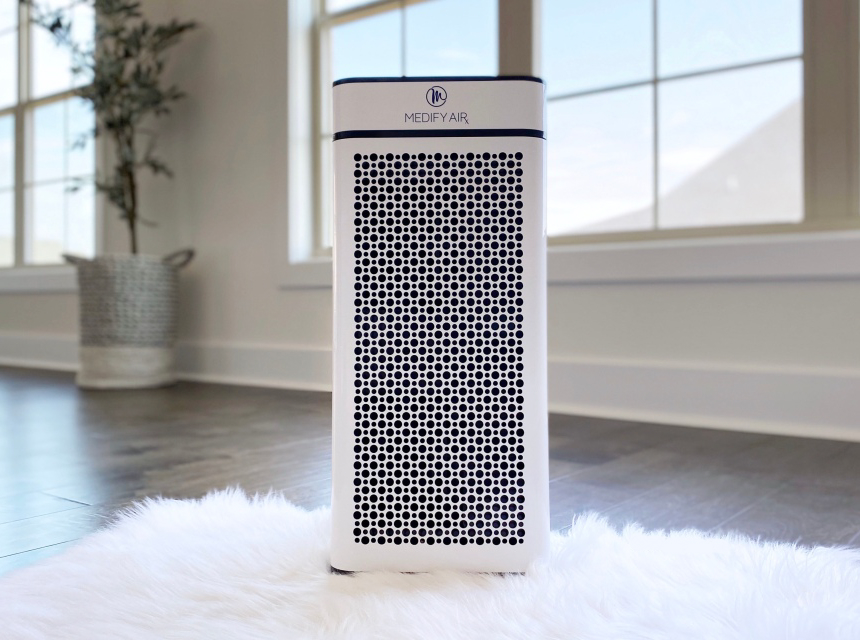 The Medify MA-40 air purifier ranks third when it comes to the largest coverage area in the brand's floor-standing models. It combines great design with exceptional performance making it the best option for anyone looking for an affordable flagship device.
This air purifier is perfect if you're looking for air purifiers that are powerful enough to clean large spaces. It also has an H13 True-HEPA filtration system that comes in handy for people with respiratory problems or flaring allergies.
The thick activated charcoal bed on the Medify MA-40 air purifier makes it a great option for smokers and pet owners as it filters out smoke and strong odors.
Designs
The Medify MA-40 air purifier comes in 2 sleek and polished colors; black and white. It has a premium look with a rectangular design and is one of the best-looking models from the company. This design is simple but sleek, and the perforated holes on the air grill make it aesthetically pleasing.
The MA-40 air purifier also has a tempered glass control panel that is highly innovative.
Construction
The construction of an air purifier not only determines its exterior outlook but also highly influences its functionality. We loved the compact nature of the Medify MA-40 but were most impressed by the assembly and set-up. It comes ready for use straight out of the box and is fully assembled. The air filter kit is, however, wrapped in plastic for protection against dust during shipping and storage. We had to remove the wrapper first before plugging it in, but this is easy as we only had to open the back panel to access it.
Check out our full review below.
Filters
This air purifier comes with a 3-in-1 filter package: including a high-quality HEPA filter, pre-filter, and activated carbon filter. The MA-40 model also comes with an optional ionizer and passes through the following stages for purification;
Pre-filter: the main aim of this filter is to protect the True HEPA Filter so as to enhance its durability. It mainly performs this function by capturing large air pollutants such as dust, hair, and fur.
True HEPA H13 Filter: this is a high-efficiency filter that can capture up to 99.97% of allergens that are 0.3-microns. This includes viruses, fungi, pollen, and mold. For comparison, a single strand of your hair is around 100 microns, making 0.3 microns extremely microscopic.
The H13 rate of the filter stands for its efficiency, and the highest rating is H14 which should let you know how effective this filtration technology is. This filter only allows  0.05% of allergens to pass through it.
Activated Carbon filter: this filter uses carbon pellets to absorb bad odors from cigarette smoke, kitchen smells, and pet smells.
The only downside with this filtration technology is that you can't replace each filter individually. This is especially worrisome because the carbon filter gets saturated faster than the others. The pre-filter is also not washable.
This air purifier also comes with an ionizer that charges the captured particles and traps them inside the device. It's optional and can be switched on and off.  When the ionizer is on, the charged particles are released into the air. They then attach to the air pollutants in your home, after which the heavy allergens fall to the ground.
It's estimated that this feature increases the CADR by around 8%. It's, however, not recommended if you or members of your household have asthma or breathing difficulties.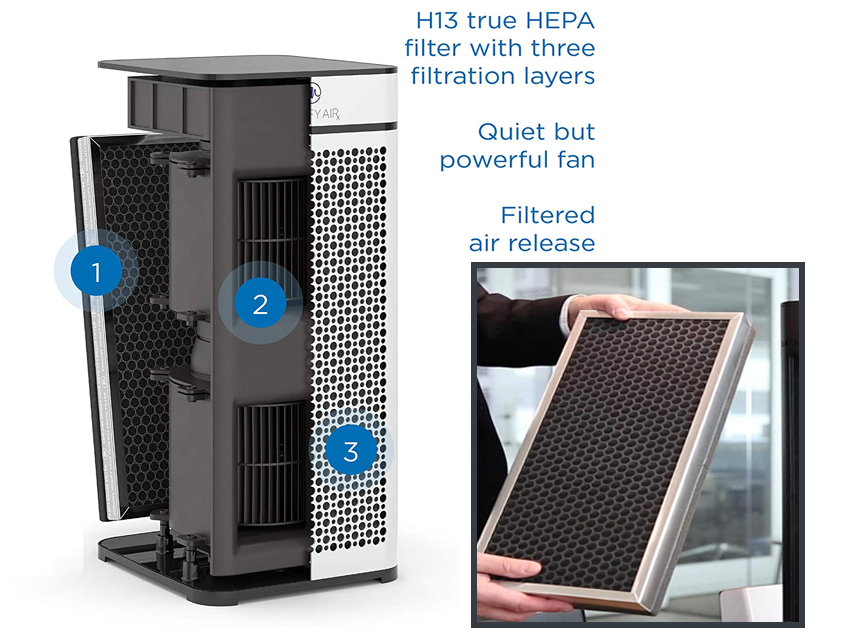 Fans
The Medify MA-40 comes with a variable-speed fan that helps circulate the air in your rooms at your desired speed. It has 3-speed levels that you can use if you prefer to keep the purifier static, but you can also switch to auto mode to keep it dynamic based on the room's current air quality.
The 3 speed levels are low, medium, and high.
Indicators
This air purifier comes with an air quality indicator that makes it easy for you to confirm that it's working as intended. Medify attached a small light to the device that displays different colors based on the air quality of your home. If you switch the MA-40 on, you should notice a change in the LED light showing that the air quality has improved after a while.
The indicator shows 3 colors:
Red: this shows that the air quality in the room is very bad, and there are a lot of pollutants and allergens in the atmosphere.
Green: the air quality is moderately good and relatively safe, but it could use more purification.
Blue: the air quality is healthy.
This indicator also controls the speed of the fan if you've set it to auto mode and slows them down or increases their speed depending on the quality of air.
Exterior quality
The Medify MA-40 has a beautiful modern design that is further enhanced by its glossy finish. It has a premium feel, and its body is made from high-quality, durable plastics. The compact nature of this device makes it possible to place it at the corner of your room discreetly without being an eyesore.
The purified air comes out through the vent in the front panel, which also contains the air quality indicator. We especially loved this feature because most air purifiers put the indicators at the top, which means you have to walk to the device to view the air quality reports. With the Medify MA-40, you can easily view real-time air quality reports from the comfort of your seat.
On the back panel, there's an air quality sensor, the filtration kit, and the air-in vent.  It also contains a sturdy handle that makes it possible to move the device around the room.
Dimensions
The Medify MA-40 air purifier is tall and slim. It measures 22″H x 9.9" W x 10.9" D, giving it a tower-like appearance. It also isn't very built and is easily portable.
Weight
This air purifier only measures 15.5 lbs, which is a 50% weight increase from the previous model. While this may seem a bit heavy, it only adds to its stability to ensure it doesn't keep tipping over. This also shouldn't be a problem if you don't plan on moving it around your house. However, should you wish to change its position, the handle at the back makes it easier to move.
Working process
The Medify MA-40 runs on an air-in air-out filtration technology from back to front. This means that when the air is sucked in through the back panel, it passes through the 3 filtration stages before it's released through the mesh on the front of the device.
Area coverage
This air purifier has an ACH rating of 2X. ACH refers to air change per hour and is a measure of how many times a purifier can change the air in a room. According to Medify, the MA-40 can clean a 1300 square feet room within an hour and small rooms of 800 square feet in half this time. This is impressive for a device this size.
CADR
This refers to the clean air delivery rate and is a measure of how quickly a purifier can eliminate dust, pollen, smoke, and other allergens from a room. The Medify MA-40 has a CADR rating of 330 cubic feet per minute which is ideal for medium to large rooms.
Ionizer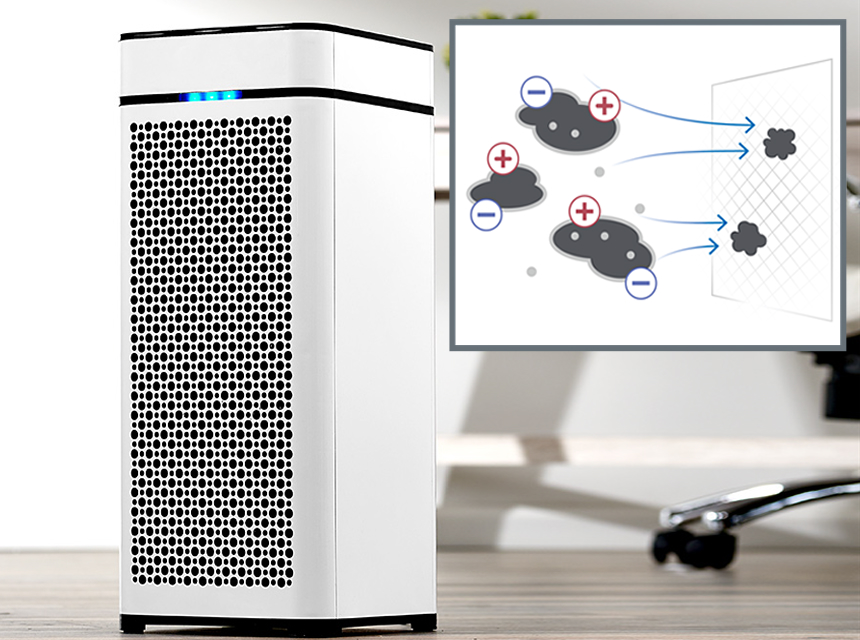 There are instances where air pollutants are too small to be drawn into the purifier, and this is where ionizers come into play.
The optional ionizer is the last stage of the air purification process, and when this feature is turned on, it releases negatively charged ions in the air to trap bacteria and other air pollutants. These ions cling to the allergens and make them large enough to be drawn into the air inlet. This further improves your home's air quality.
Timer
The Medify MA-40 air purifier has a 0-8 hour timer which comes in handy if you don't want your device to run continuously. This not only saves your energy consumption but also allows you to turn the air purifier on when you really need it. Once the set time is over, the purifier automatically shuts down.
You can either set the time for 1, 2,4, or 8 hours.
Sleep mode
This air purifier has a sleep mode feature that turns the fan down to the lowest setting to ensure you rest easy. This feature also dims the lights to reduce the number of distractions at night.
Controls
We loved how easy it is to use the Medify MA-40 air purifier, thanks to the stress-free control panel. It uses tempered glass touch screen technology that allows you to adjust it to your preferred settings.
The control panel enables you to operate features such as the times, sleep mode, and auto mode. Each button on the panel can be controlled with a simple tap, and the purifier produces a soft chine every time to change a setting.
It also has a child lock feature which comes in handy if you have young ones in the house. This feature prevents accidental changes to the settings when anyone touches the controls panel. To turn it on, you simply tap and hold on to the icon for about 8 seconds.
We were, however, not impressed by how long it took to deactivate the feature as you have to hold the icon for around 30-45 seconds. On the plus side, this prevents your children from turning the feature off by accident.
Noise level
The noise produced by the Medify MA-40 is slightly higher than the industry average. The highest noise level based on the fan speed is 66 decibels, while the lowest is 46 decibels which is slightly noisy. To bring this into perspective, a vacuum cleaner produces around 75 decibels.
If you plan on using this purifier at night, make sure you place it away from the bed.
Power consumption
Since air purifiers often have to be used for long periods of time, power consumption should be a great consideration before you buy any model. The power rating of the ME-40 air purifier is 68 W, and even though it may seem higher than that of other devices within the same price range, it's pretty efficient.
Assuming you used this purifier for 12 hours every day, you would use 0.816kWh  which would only cost you $0.098 daily. This translates to about $36 annually.
Warranty
Medify is one of the few brands that offer a limited lifetime warranty on their products, and the MA-40 is no different. You, however, need to change your air filters with legitimate Medify filters every 6 months or after 3000 hours, whichever comes first. This is also the only type of maintenance that this air purifier needs.
The good news is that the replacement filters are fitted in one cartridge, making the replacement process easy.
PROS

CONS

It is CARB-approved and Energy Star Certified.
It has a child lock feature.
It comes with an optional ionizer.
The control panel uses tempered glass touch screen technology.
It has a 3 in 1 filtration system.
It uses a true HEPA 13 filter.
It comes with a limited lifetime warranty.
It has an impressive ACH and CADR rating.

It doesn't have wifi connectivity or support mobile apps.
It's slightly noisy compared to other models within the same price range.
The air quality indicators remain on even during the sleep mode.
The filter replacements are pricey.
Conclusion
According to the EPA Trusted Source Why Indoor Air Quality is Important to Schools | US EPA Basic information for IAQ and schools: why it's important, what you can do, EPA and federal partners, national organizations, and resource www.epa.gov , indoor air pollution is up to 5 times higher than outdoor pollution, which is why air filters are becoming more of a necessity than a luxurious addition to your home. If you're looking to buy a high-functioning air purifier that's also affordable, then you should consider the MA-40 model. It has incredible technology features such as child lock, sleep mode, and an optional ionizer. It also uses a 3-in-1 filtration technology that is highly efficient. We hope this Medify MA-40 review helps you make the right purchasing decision.
References
1.
Why Indoor Air Quality is Important to Schools | US EPA
Basic information for IAQ and schools: why it's important, what you can do, EPA and federal partners, national organizations, and resource